A good skincare routine can make your skin healthy and glowing. It can address skin issues and prevent skin conditions, helping you achieve a youthful look. But what is a serum for skin? What is the purpose of serum in skin care?
If you are not familiar with skin terminology, don't worry. In this post, you will discover its key ingredients and benefits. Here, you will learn how to apply a skin serum and learn valuable tips on effectively applying this product!
What Is a Serum? Defining Skin Serum and Its Purpose
Many people are searching for a beauty product that will make their skin radiant and healthy. Therefore, countless products emerge on the market on a regular basis. 
Skin serums are among the most popular products due to their potent concentration of ingredients. They may target specific skin conditions, which is why it is essential to every skin care routine. 
A serum is a concentrated skin care product. It is usually a clear, lightweight, fast-absorbing water-based gel-like formulation. A skin serum has a thinner consistency than a cream or a lotion. 
It is designed to deliver active ingredients directly into the skin. Compared to many creams, the serums penetrate deeper into the skin, targeting specific skin issues. Since they are fast-absorbing, serums enable layering with other products. 
In general, a serum for skin comes in a small bottle with a dropper for easy appliance. Another significant advantage is that this product may be suitable for all skin types. 
What Is a Serum for Skin?
Given the serum has small molecules, it may penetrate deep into the skin. This product aims to target skin issues like signs of aging, hyperpigmentation, and dryness. People often use it for cleansing and toning the skin. 
Serums contain a high concentration of ingredients like vitamins, antioxidants, peptides, and hyaluronic acid, which may retain moisture. The nutrients may nourish and hydrate the skin before moisturizing. 
Some serums, like the TNS advanced serum, also contain growth factors, which play a massive role in skin elasticity. Daily use of this product may enhance skin tone and texture. 
Types of Skin Serums
In general, skin serums contain a blend of ingredients to address a number of skin issues. Depending on your needs, you can use a skin serum for a variety of purposes. The most common types of skin serums are the following:
Anti-aging 

Hydrating

Brightening

Acne-fighting

Exfoliating 

Firming 
Anti-aging 
An anti-aging skin serum is commonly used to reduce wrinkles, fine lines, and age spots. These serums might reduce signs of aging and promote youthful skin. Anti-aging serums are usually suitable for all skin types. 
Anti-aging serums sometimes contain ingredients like vitamin C and peptides, which may help smooth the skin. Anti-aging products also often contain retinol, a form of vitamin A that may boost collagen production. 
Hydrating 
A hydrating serum aims to attract and retain moisture in the skin. In general, it contains hyaluronic acid, peptides, and glycerin to hydrate the user's skin. Aside from hydration, the peptides may also help repair damaged skin and improve elasticity. 
Such a serum is ideal for those with dry skin. Yet, people with oily skin can also benefit from using this type of skin serum. 
Users with young or mature skin can both use a hydrating serum. By restoring skin hydration, the serum may help the skin stay refreshed and give it a plump look. 
Skin Brightening 
Color-correcting serums may even out the skin tone and fade dark spots. As the name suggests, a brightening serum aims to give the skin a bright and radiant appearance. It may also be beneficial for individuals with hyperpigmentation. 
These serums typically contain ingredients such as vitamin C, arbutin, and glycolic acid, for brightening dark patches. Vitamin C may increase collagen production and reduce skin inflammation. The vitamin may also protect the skin from environmental damage. 
Acne-fighting 
The goal of acne-fighting serums is to reduce inflammation and unclog pores. These products may control excess oil production. It might also be beneficial in the treatment of acne breakouts.
Common ingredients present in acne-fighting serums include tea tree oil, benzoyl peroxide, and salicylic acid, which might unclog pores. An acne-fighting serum may be beneficial for treating redness and irritation caused by acne. 
Another common ingredient is niacinamide which may improve skin elasticity and help the body maintain healthy-looking skin. Vitamin B3 may also regulate oil production and reduce the appearance of pores. 
Free-radical Fighting
These serums often contain antioxidants. They may fight free radicals that can damage the skin. They feature vitamin A, vitamin C, and vitamin E. Vitamin A may improve the appearance of sagging and wrinkles by stimulating collagen production. 
Vitamin E might also protect the skin cells from oxidative damage. The free-radical serums can contain ingredients like resveratrol. 
Exfoliating
The usual method of exfoliating is by scrubbing the skin to eliminate dead skin cells. However, this can be harsh for users with sensitive skin. 
In this case, an exfoliating serum might be beneficial. It may repair dead skin cells, tighten the pores, and balance the skin tone.
Users also use this type of serum to potentially clear pores and blackheads. It may also protect the skin from damage. These types of serums often contain lactic or glycolic acids, which may support healthy skin texture. 
Firming 
Our skin experiences decreased collagen and elasticity with age, which may lead to loose skin. That being said, serums containing formulations for targeting saggy skin may provide a lot of benefits for users.
If you are in need of a firming serum, look for one that contains ingredients that may improve collagen production and hydrate the skin. These include retinol, niacinamide, and hyaluronic acid.
Tips for Incorporating a Skin Serum Into Your Routine
Skin serum Usage 
To get the most out of the serum, you need to make sure that you use the product in the correct way. Skin serums are simple to use as you only need to apply two or three drops on your face and neck. 
You should use this type of product after cleansing your skin and before moisturizing. This type of product may enhance the hydrating effects of the moisturizer. You might be able to notice results after a few days of using the serum. 
The results can vary, as everyone's skin is different. How often you use a skin serum depends on the product you are using and your goals. 
It is recommended to use a hydrating serum twice a day, in the morning and in the evening. It is recommended that antioxidant serums should be applied in the morning. On the other hand, an anti-aging serum is best for nighttime application. 
As mentioned, there are several types of serums created to address different skin problems and conditions. 
The purpose of each serum is to target specific skin issues. Therefore, you should choose a serum based on the results you would like to achieve. 
Guide on Applying Skin Serum 
Before applying the serum to the skin, wash your face thoroughly and wait for it to dry.
Next, put on a toner of your choice.
Apply the right amount of serum and create a thin layer. Apply the serum to damp skin for better absorption if you have dry skin. For sensitive skin, wait for the skin to dry before applying the serum to avoid irritation. 
Start massaging by doing gentle motions with your fingertips. 
Wait for a few minutes for the skin to absorb the serum. 
Once the serum dries, proceed to use moisturizer and other skin care products. 
According to research, using both a serum and a moisturizer is recommended for optimal results. You will also need to layer them in the right way to get desired effects. The serum can also be a base layer for sunscreen and makeup products.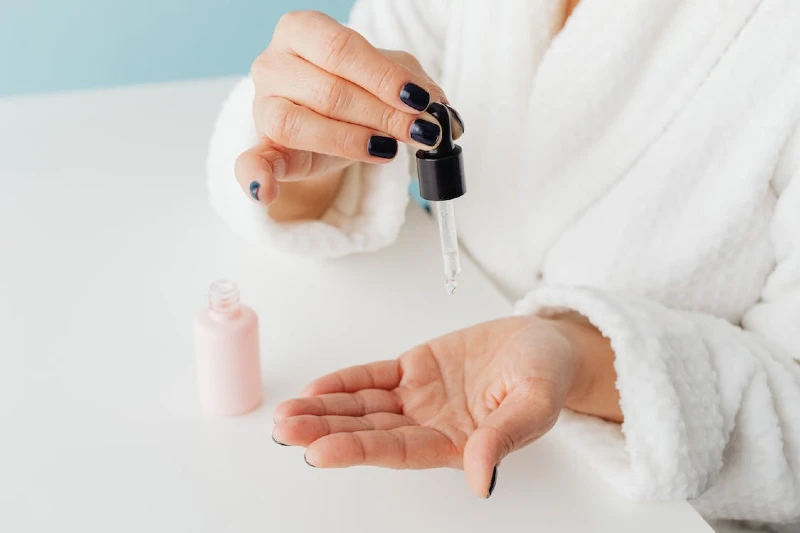 Things to Keep In Mind When Applying a Skin Serum
When using a serum for your skin, you need to consider your skin type. It's equally important to consider the type of concerns you would like the product to target. You also need to follow the instructions from the manufacturers for optimal results.
Make a patch test before applying serum to your skin to avoid adverse reactions. Also, avoid combining acid products with other products containing acids, as they may cause skin irritation. 
If your skin is sensitive, you have to be very careful when using them, as some serums are very potent. Ensure to apply the right amount to avoid any unwanted effects. A vital thing to mention regarding serums is consistency and patience. 
Some serums might provide immediate effects, while others need several weeks for noticeable results. Using the serum regularly is essential for long-lasting effects. 
What Is the Purpose of a Face Serum?
As their name suggests, face serums are designed to address skin concerns on the face. These serums contain a blend of ingredients that may prevent acne and reduce wrinkles. 
A face serum may target one specific skin concern or address a combination of skin issues. This type of product may also be beneficial for skin dullness and dryness.
Is There a Difference Between a Skin Serum and an Oil for the Face?
Skin serums go deeper into the skin than oil, retaining moisture on the skin's surface. The texture of an oil is thicker, so it takes longer to penetrate the skin. As mentioned, the serum is lightweight and may penetrate the skin much more easily. 
The Benefits of Using a Skin Serum
Skin serums offer a variety of benefits that may contribute to healthy and smooth skin. They have revolutionized skin care regimens by targeting specific skin problems. 
A skin serum contains a blend of ingredients that work synergistically to provide results. These include reducing wrinkles, fine lines, and discoloration. 
Given its consistency, a skin serum feels light and may absorb quickly into the skin. Because of this, even small doses may be very effective. 
The skin product aims to deliver all the necessary nutrients and promote cell regeneration. It may also improve the skin's firmness and combat signs of aging. 
Daily exposure to the sun may result in an appearance of discoloration and dark spots. Therefore, the use of a skin serum may visibly reduce them. 
With age, the skin naturally loses its moisture. A skin serum may combat sagging and improve skin firmness. 
Final Thought 
So, what is a serum for skin? A skin serum may provide various benefits for the skin and is an essential product to have in every beauty routine. Therefore, many people turn to skin serums to improve their skin's health and appearance. 
When buying a skin product, looking for one that suits your skin type is essential. It needs to contain ingredients that may address specific skin issues. 
Whether you are looking to address acne or wrinkles, or other skin issues, incorporating a skin serum into your routine may be very beneficial for your skin.