If you've ever been to a cafe, you know that the atmosphere can make or break your experience. And one of the most essential factors in creating the right atmosphere is lighting. The proper lighting can set the mood, create a sense of warmth and comfort, and even make your food and drinks look more enticing. 
But how do you know what kind of lighting to choose? In this post, we'll explore the different types of lighting that can be used in cafes and how to use them to create the perfect ambiance for your customers. So grab a cup of coffee, and let's dive in!
What Lighting Should You Choose?
1. Allow Natural Lighting
A cafe serves as a multifunctional space, catering to both productive remote workers and students immersed in their laptops, as well as individuals seeking a tranquil spot to unwind with a good book and a freshly brewed cup of coffee. To harmonize the needs of these diverse patrons, the strategic use of natural light plays a pivotal role in crafting an invigorating environment.
Typically, cafes are designed with expansive windows, often accompanied by conveniently placed tables and power outlets. This layout not only maximizes the influx of natural light but also appeals to customers who prefer a bright and energizing setting. During daylight hours, this design choice minimizes the need for artificial lighting, as the sun naturally illuminates the space.
For areas of the cafe situated further from the windows, artificial lighting becomes an essential tool. Here, warm and soft lighting can be employed to craft a cozy and inviting atmosphere that meets the expectations of guests looking for a more relaxed experience.
To ensure a seamless transition from day to night, it is also important to install effective lighting solutions above the window areas. This ensures that as the sun sets, the cafe retains its welcoming ambiance without a stark contrast in lighting.
In this way, the thoughtful integration of natural and artificial lighting serves as a key strategy for cafes, enabling them to adeptly balance and satisfy the varied preferences of their clientele.
2. Keep One Color Temperature
Choosing the right color temperature is crucial in creating the perfect ambiance for a cafe. It sets the mood and tone for the entire space, influencing customer perceptions and behavior. When it comes to cafes, it's important to strike a balance between functionality and aesthetics. 
Experts recommend aiming for a color temperature between 2200-3200 for cafes, as it provides a warm, comfortable glow that enhances the decor and creates an atmosphere conducive to relaxation and enjoyment. 
In addition to color temperature, other factors like brightness and direction of lighting should also be taken into account. By carefully considering all of these factors, cafe owners can create a space that's both functional and visually appealing, attracting customers and encouraging repeat business.
3. Turn on the Lighting on Time
During the day, consider keeping some light fixtures turned off to allow natural light to fill the space. This approach not only conserves energy but also enhances the ambiance of the area. However, as the sun sets and natural light becomes insufficient, it's important to switch on the lights near the windows. It ensures that customers have adequate lighting to study, read, or relax comfortably.
This not only enhances the customer experience but also ensures their safety by preventing accidents in low-light conditions.
In order to optimize the lighting plan, one can use timers and dimmers, which can be very useful. For instance, cafe pendant lights can be set to a dimmer during the day and then go to full brightness after dark or turn on automatically with timers. This saves energy while still maintaining the desired level of illumination. 
Moreover, setting timers to turn off the lights selectively at the end of the night or when closed can help save on electricity when the building isn't occupied. This is not only eco-friendly but also reduces costs in the long run.
4. Use LED Lighting Fixtures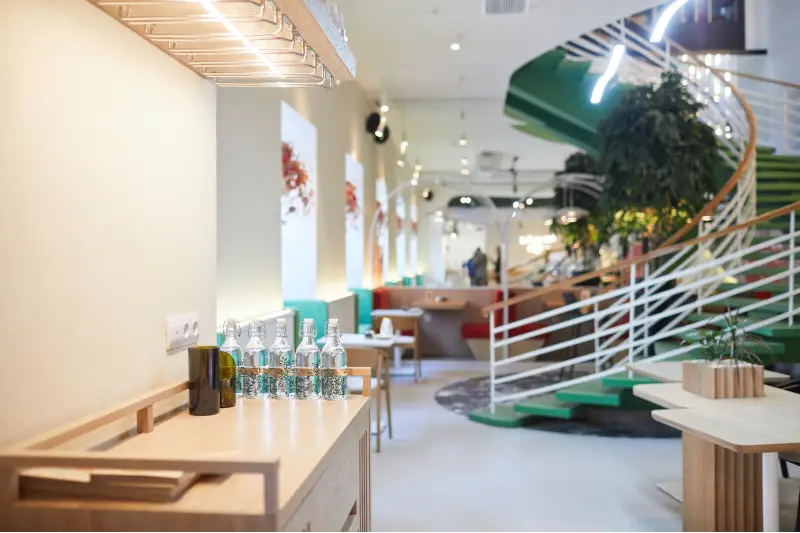 LED lighting solutions are a top choice for effective cafe lighting, and here's why:
Energy Efficiency: LED lights provide bright and clear illumination while using less electricity. This translates to significant savings on utility bills.
Cool and Safe: Unlike other lighting options, LEDs don't produce heat, making them a safe option for your cafe.
Long-lasting: LEDs operate on a driver, not a ballast. This contributes to their remarkable durability, offering a lighting solution that stands the test of time.
Flicker-Free Consistency: LED lights provide steady, consistent lighting for years. They can last up to four times longer than traditional incandescent bulbs, all while maintaining a warm, inviting glow.
Eco-Friendly: LEDs are a green choice. They don't contain mercury, use less energy overall, and require replacement less frequently than other, less efficient types of lamps.
Superior Color Quality: LED lights offer excellent color rendering indexes and a wide range of color temperatures. This means you can easily find the perfect lighting tone to complement your cafe's ambiance, without any hassle.
5. Combine Different Types of Lighting
When choosing light fixtures for a cafe, you don't have to stick to just one style or mounting method. Cafes often have a unique and artistic vibe, so feel free to mix and match various types of fixtures. This approach helps to layer the lighting, adding depth and variety to the space.
For example, consider pairing overhead track lighting with recessed can lights. This combination offers plenty of general lighting while maintaining a warm and welcoming atmosphere. To further distribute light throughout the space, consider adding a few strategically placed wall sconces.
In terms of mounting options, recessed and surface mounts are popular choices, but don't overlook suspended mounts. These can add a decorative flair that not only boosts the overall lighting but also contributes to the cafe's inviting and artistic ambiance.
Final Thought
Lighting is one of the most essential factors in creating the right atmosphere for a cafe. By utilizing natural light, choosing the right color temperature, and combining different types of lighting, cafe owners can create a space that's both functional and visually appealing, attracting customers and encouraging repeat business. 
LED lighting solutions are a great option for their longevity, energy efficiency, and diverse color temperature scale. By carefully considering all of these factors, cafe owners can create the perfect ambiance for their customers, enhancing their experience and ensuring their safety.