A well-lit business space is crucial for productivity and overall health. Proper office lighting not only affects our mood but also significantly impacts our performance. 
This blog post will discuss six effective ways to light your workspace and business premises. Don't be intimidated by the task. It is essential to create a well-lit office or shop.
Here are 10 tips to get your business lighting right.
1. Divided the Office Into Zones
In open-space offices, different zones may require different levels of lighting. While many workplaces use room dividers or typical cubicles, lighting can also be used as a way to divide the space. 
For instance, areas where employees work at their desks, may require brighter lighting than areas where they socialize. Higher lux value lighting and brighter color temperatures can increase productivity, while dimmed lighting is better suited for social areas.
2. Get LED Lights
LED lights are an increasingly popular choice among business owners due to their practicality and cost-effectiveness. The 60-watt LED light, which has a lumen output of around 800, is gaining popularity due to its energy efficiency. 
By using less electricity, you can save money in the long run, which is also great for the environment. Additionally, LED lights have a longer lifespan compared to other types of lighting, which can further reduce costs and contribute to sustainability. 
Furthermore, they produce less heat, which can help keep your commercial space cooler during the summer months. In addition to providing a more comfortable working environment for employees, this can help reduce the need for air conditioning.
3. Explore Building Energy Efficiency Standards
The Building Energy Efficiency Standards, or the Energy Code, to newly built structures, additions, and alterations. It is a significant component of California's climate action plan. 
Pre-rulemaking activities for the 2025 Energy Code involve researching and gathering information to prepare for a formal rulemaking proceeding.
4. Try to Allow as Much Natural Light as Possible
Natural light should be the primary source of illumination, with artificial lighting serving as a backup. Positioning workstations or cubicles facing north or south can help avoid direct sunlight and resulting glares. 
Using more natural lighting sources is also cost-efficient as it saves energy. New technologies like daylight harvesting systems allow for automated dimmable lights according to the natural light available, making the work environment feel brighter and more welcoming.
5. Avoid Contrast And Shadows
In your commercial space, avoiding creating too much contrast with bright light sources that could cause harsh shadows is important. An even light distribution throughout the room is necessary to avoid making the space feel smaller and cramped. 
The best way to do this is to use various light sources, such as overhead, table, and floor lamps.
6. Arrange Lights Equally
If you are struggling with lighting design, consider consulting with a lighting design consultant. Properly arranged light fixtures are a crucial element of any successful commercial space. 
The right lighting can not only enhance productivity but also improve the overall atmosphere of the space. From bright task lighting to soft ambient lighting, there are many options to consider when designing the lighting scheme for your commercial space. 
Also, using energy-efficient lighting solutions can save you money on your energy bill and contribute to a more sustainable and environmentally-friendly business. 
By investing in quality light fixtures and carefully planning the lighting layout, you can create a space that is inviting, comfortable, highly functional, and productive.
7. Install A Dimmer Switch
This lighting system optimizes lighting sources, saving power and money. It simplifies the process of monitoring and using lighting fixtures in the office. It regulates lighting in different office areas to make the most out of natural daylight. 
This system can benefit areas that are rarely used, such as toilets, corridors, and meeting rooms, by ensuring that they are only illuminated when necessary. Furthermore, dimmable switches can be installed in meeting rooms with projectors to control light levels.
8. Use Desk Lamps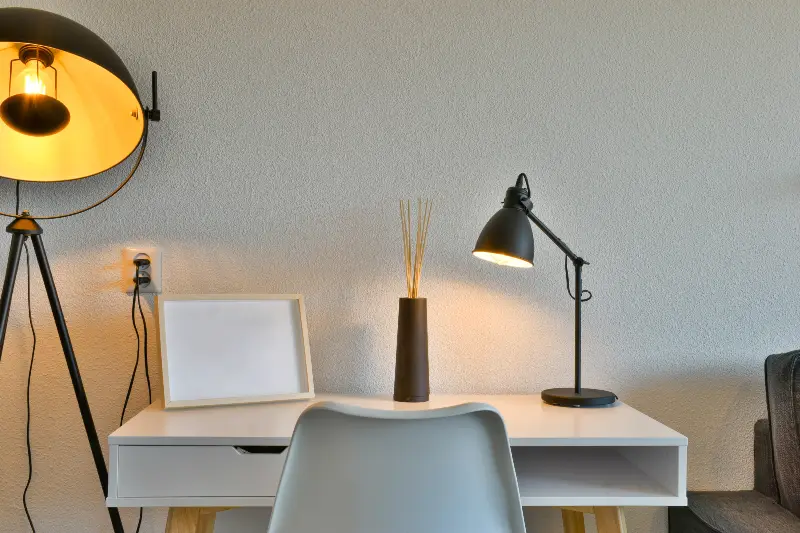 Desk lamps are ideal for providing comfortable lighting in your commercial space. They are designed to be easy on the eyes and prevent strain, ensuring employees' comfort while working. 
Choosing the right desk lamp for your office can be a daunting task. There are many factors to consider, such as the size of the lamp, the type of light bulb, and the color temperature. 
You must also ensure that each desk has a lamp with light bulbs of the appropriate wattage to provide ample light without being too bright. 
Also, desk lamps can be used for work, reading, studying, or even as a decorative element. They come in various shapes, sizes, and designs, so you can choose the one that best fits your office's aesthetic. 
Investing in high-quality desk lamps can improve employees' productivity, reduce eye strain, and create a more welcoming and comfortable workplace.
9. Keep The Lights Indirect
Direct light in the eyes can be very irritating and cause headaches. It is important to reduce glare and diffuse the light in your space, especially if it has a lot of natural light. 
One way to do this is by using blinds or curtains to block out some of the light. Another option is to use task lighting, which can provide a more focused and less harsh light source. 
Additionally, you may want to consider using light fixtures with adjustable settings, so you can change the brightness and direction of the light to suit your needs. By taking these steps, you can create a more comfortable and productive environment in your space.
10. Use Solar Lighting
Solar lights are an eco-friendly option as they do not consume electricity and are powered by the sun. They're also a great choice for those who wish to decrease their carbon footprint. When considering solar lighting, it is important to remember that there are different types. 
Ensure that the lights get enough sunlight during the day, and choose LED bulbs for their energy efficiency and longevity. Reading reviews is also recommended to ensure that you get a high-quality product.
Final Thought
Lighting is a key element of any successful commercial space. 
By dividing the office into zones, getting LED lights, exploring building energy efficiency standards, allowing as much natural light as possible, avoiding contrast and shadows, arranging lights equally, installing a dimmer switch, using desk lamps, keeping the lights indirect, and using solar lighting, you can create a space that is not only inviting and comfortable, but also highly functional and productive. 
Proper lighting can improve productivity, reduce energy costs, and create a more sustainable and eco-friendly workplace.