As a startup owner or the leader of a small to medium-sized business, finding the perfect workspace is a significant step. Traditional offices can be a costly proposition, often lacking the flexibility your growing venture needs.
That's where coworking spaces come in. They are shared, vibrant environments that offer more than just a desk; they provide a platform for connection, learning, and growth. This article delves into six compelling reasons why coworking spaces might be the game-changing solution your business needs.
1. Cost-Effective
One of the most significant benefits of a coworking space is its cost-effectiveness. Renting office space can be expensive, especially if you're just starting. 
Contrarily, coworking spaces offer a more affordable alternative to traditional offices. You only pay for the space you need and don't have to worry about utility bills, internet, and other expenses for running an office. It means you can save a lot of money and invest it in other business areas.
Premium coworking spaces also offer flexible payment plans. You can rent a desk or office space for as little as a day or as long as a year, meaning you can choose the plan that best suits your business needs and budget. Some coworking spaces also offer discounts for long-term rentals, saving you even more money.
Another cost-saving benefit of coworking spaces is that you don't have to worry about maintenance and repairs. The space provider covers them, so you don't have to spend money on these expenses.
2. Networking Opportunities
Coworking spaces provide an excellent networking opportunity. You'll work alongside other entrepreneurs, freelancers, and small business owners. 
It allows you to meet new people, connect, and build relationships. You never know who you'll meet and how they can help you with your business. You can also learn from other professionals and gain insights into different industries.
Many coworking spaces also organize events and workshops, which can help you expand your network and learn new skills. These events are often free or at a minimal cost, which means you can attend them without breaking the bank.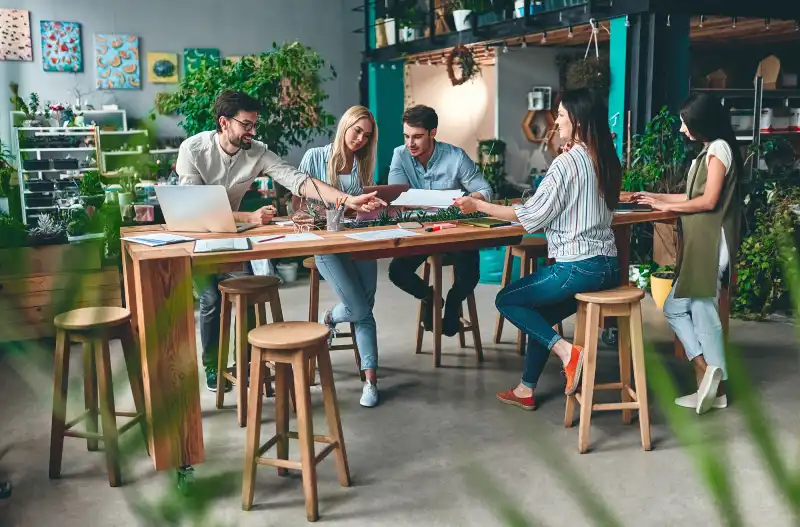 3. Flexibility
Coworking spaces offer flexibility that traditional offices don't. You can rent a desk or office space for as long as needed, meaning you can scale up or down depending on your business needs. If you need more space, you can rent a larger office. If you need less space, you can downsize. 
Coworking spaces can also provide unique flexibility to work from various locations without needing multiple offices. This is a boon for businesses with traveling demands or distributed teams. A single coworking plan can offer access to professional workspaces in multiple locations, saving on cost and hassle. 
Flexibility is crucial for businesses that are just starting or growing. You don't have to commit to a long-term lease, which can be risky if your business doesn't take off as planned. Coworking spaces offer short-term rental options, which means you can adjust your rented office as your business grows or changes.
4. Increased Productivity
Coworking spaces can increase your productivity. When you work from home or in a coffee shop, many distractions can hinder your ability to focus. That's not the case with coworking spaces; they're designed to be conducive to work. 
They have a professional environment, high-speed internet, and all the necessary amenities to be productive. You'll be surrounded by like-minded individuals who are also working, which can motivate you to stay focused.
Coworking spaces also offer a sense of community, which can help you stay motivated and productive. You'll work alongside other entrepreneurs and small business owners working hard to achieve their goals. It can create a supportive environment that can help you stay on track.
Furthermore, coworking spaces offer a variety of workspaces. You can work in a private office, a shared workspace, or a dedicated desk. Therefore, you can choose one that best suits your work style and needs.
5. Access To Resources
Coworking spaces offer access to resources that you may not have otherwise. They have meeting rooms, conference rooms, printers, scanners, and other equipment that you can use. Thus, you don't have to invest in expensive equipment or rent a separate meeting room. You can also take advantage of the events and workshops that coworking spaces offer. These events can help you learn new skills, meet new people, and grow your business.
Many coworking spaces also offer mentorship programs, which can help you get advice and guidance from experienced entrepreneurs. You can also access funding opportunities to help you finance your business.
6. Improved Work-Life Balance
Coworking spaces can improve your work-life balance. When you work from home, separating your work life from your personal life can be challenging. 
Coworking spaces give you a designated workspace, which can help you focus on work during work hours. When your shift ends, you can leave work behind and focus on your personal life. This can lead to better mental health and a better work-life balance.
Moreover, coworking spaces offer many amenities to help you care for yourself. These include gym memberships, meditation rooms, and other wellness amenities. Thus, you can care for your physical and mental health while growing your business.
Final Thought
Coworking spaces are immensely beneficial to businesses, as discussed above. Your winning point is researching extensively for a premium coworking space with all the required amenities. There's no denying that some are substandard. So, it helps to shop around keenly. 
And whichever one you settle on, consider renting it briefly to test and see whether you like it. If satisfied, you can extend the contract. Or you can try another one if it falls short of your expectations.