Designing the perfect living room can often feel like a daunting task. With so many design elements to consider, from selecting the right furniture to picking the perfect color scheme, it's easy to feel overwhelmed. 
A living room that merges comfort and style, however, is within your reach. Below, we will share some insightful tips you can incorporate to make your living area a serene haven.
1. Understanding the Essentials of Living Room Design
Before hopping into the design process, it's essential to understand the basics. The primary purpose of a living room is to offer a comfortable space for your family and friends. Always ensure the area is not cluttered and has sufficient space for movement.
Next, consider the room's lighting. Natural light not only saves electricity but also illuminates the room, giving it an inviting feel. If your living room doesn't have access to natural light, creative lighting solutions can make a huge difference.
The color scheme you choose sets the mood for your living room. Warm tones invoke comfort and coziness, while cool tones create a serene, soothing atmosphere. Neutral shades, such as greys or earth tones, provide a versatile foundation for your design.
Last but not least, the right selection of furniture sets the stage for an inviting space. Investing in high-quality, comfortable seating is crucial since this is where you and your guests will spend most of the time.
2. Incorporating Fashion Into Function for a Comfortable Space
Creating a practical and fashionable living space involves careful planning. A streamlined, clutter-free room provides a sense of calm and makes the area more aesthetically appealing.
Adding versatile furniture pieces, such as coffee tables with storage or ottomans, allows you to achieve a stylish, functional space. Such pieces offer utility without compromising on fashion.
Consider investing in grey rugs for a classy look. Not only do they add warmth and style to your space, but they're also a fashionable, functional element that protects your floors and provides a comfortable surface for your feet.
Strategically placed mirrors, in addition to being fashionable, can open up the space, making your living room appear larger and more inviting.
3. Exploring Current Living Room Fashion Trends
Fashion trends offer an excellent opportunity for you to diversify and stamp your personality in your living room. Remember, updating to current trends doesn't negate the comfort of your space.
Currently, natural materials are at the forefront of the living room trend. These include woven baskets, organic cotton cushions, and wooden furniture." Minimalism, another trend, promotes simplicity and functionality. Adopting this trend can help achieve a comfortable living space without cluttering the area.
The use of bold colors and patterns is also gaining popularity. However, it's essential to balance these out to ensure the result isn't overwhelming.
4. Merging Comfort and Style in Your Living Room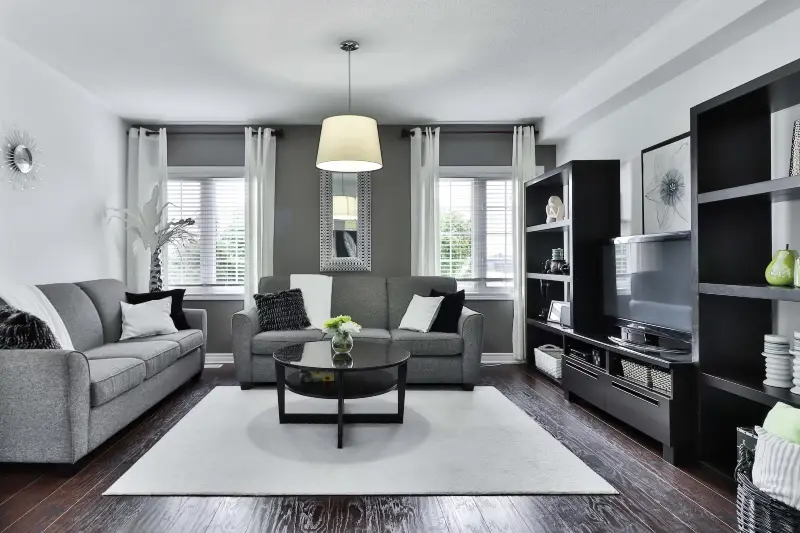 Finding the balance between comfort and style in your living room is vital. The key is to curate a space that reflects your personal style and meets your comfort needs simultaneously.
Furniture should be both comfortable and stylish. Don't sacrifice one for the other. There's an array of stylish, comfortable furniture pieces available to meet your preferences and needs.
When choosing a color palette, consider a blend of both bright and subdued colors in your room. While bright colors add vibrancy and express your style, subdued hues offer a relaxing and comfortable atmosphere.
Also, remember to incorporate personal elements like family photos or keepsakes that make the space truly yours. While these additions add style, they also provide a comfortable, familiar atmosphere.
5. Creating an Atmosphere
A beautifully designed living room is more than just furniture and paint colors. Accessories and finishing touches truly bring a room together, and selecting the right ones can elevate your space from common to unforgettable.
Introduce items like throw pillows and blankets that complement your color scheme. Not only do these add comfort, but they're a great way to introduce patterns and texture.
Wall art and unique objects displayed tastefully on shelves give your living room a fashionable edge. They reflect your style and add personality. Finally, remember to add greenery. Not only do plants improve the room's aesthetics, but they also have health benefits like improving air quality and boosting mood.
Final Thought
Overall, designing a comfortable and fashionable living room is a process that requires consideration of both function and style. With these tips, you can create a space that's uniquely yours while providing a relaxing, stylish environment for you and your guests.