The legal realm can be daunting for those unfamiliar with its intricacies. The pressure can make this unfamiliar territory even more overwhelming when facing criminal charges. 
Selecting a competent criminal lawyer to represent you is a vital first step in navigating this complex system. Once you've chosen a lawyer to guide you through this journey, it's essential to know what to expect during your initial meeting.
Continue reading this article to learn more.  
1. Preparation Before The Meeting 
Before the face-to-face meeting, gathering all necessary documents and information that might be pertinent to your case is critical. This includes police reports, court notices, bail papers, and any other evidence or correspondence you've received. 
For example, if you were arrested for alleged theft, you should gather the police report detailing the accusations, CCTV footage from your workplace showing you were at work during the time of the alleged theft, and text messages that could provide an alibi.  
By being prepared, you demonstrate your seriousness and provide the attorney with a foundational understanding of your situation. Additionally, to bolster your own understanding, consider browsing the law firm's online resources.
Fortunately, many law firms provide resources on their websites for prospective clients to understand what they can anticipate. If you're looking for more detailed information, you might consider taking a moment to visit the website of the law firm or lawyer you've chosen. 
This can provide insights into their areas of expertise, their team, and the kinds of cases they've handled in the past.
2. Initial Discussion And Fact Gathering 
The primary objective of the first meeting is to determine the facts of the case, ensuring that your lawyer has a comprehensive understanding of the situation. To achieve this, you can expect your lawyer to ask detailed questions about the incident, your involvement, potential witnesses, and any evidence you might know. 
For instance, when you meet your attorney for the first time, you might be asked to recount the events leading up to your DUI arrest. You need to detail your activities, the amount of alcohol consumed, the location of your consumption, and any interactions with witnesses. 
In doing so, be as honest and thorough as possible, as the information you provide will help the attorney assess the strengths and weaknesses of your case.
3. Explanation Of Charges And Potential Consequences 
After grasping the specifics of your situation, the attorney will explain the charges against you. This includes potential penalties, possible defenses, and the general legal process for such charges. It's vital to clearly understand what you're up against. 
For instance, if you're unclear about the terms of your assault charges, the attorney will break down the difference between simple assault and aggravated assault, detailing the potential jail time and fines associated with each. Moreover, don't hesitate to ask questions if there's anything you don't understand.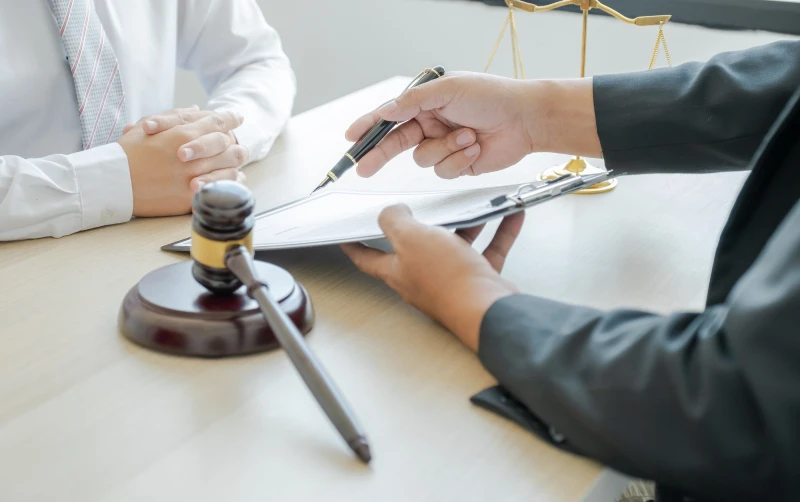 4. Discussion Of Legal Strategy 
Once the facts are on the table and the charges are understood, the next step involves mapping out a potential legal strategy. This might involve discussing whether to go to trial, considering plea deals, or determining what kind of investigations need to occur. 
For example, if you were charged with embezzlement, your defense lawyer will suggest that they could argue you were unaware of your actions due to a medication you were taking, thereby exploring a defense based on involuntary actions. 
However, you must remember that the strategy shared at this point is preliminary. It might evolve as the lawyer delves deeper into the case.
5. Explanation Of Fees And Costs 
It's crucial to have a clear understanding of the legal fees involved. During the meeting, the attorney will provide details about their fee structure, whether they charge a flat fee, hourly rate, or a contingency fee.  
After understanding the primary fee structure, it's also essential to be aware of potential additional costs, such as those related to investigations, expert witnesses, and other case-related expenses. 
For instance, your lawyer will present a detailed fee structure that outlines an hourly rate, with estimates of the total hours required for your defense. They'll also give you a list of potential additional costs, like hiring a forensic accountant to validate your financial records.
When discussing the fee structure, ensure you get it in writing to avoid misunderstandings later.
6. Setting Expectations And Communication Protocols 
A crucial aspect of the attorney-client relationship is communication. Your lawyer should inform you about how often they'll update you, the best ways to reach them, and what you can expect regarding response time. Establishing clear communication lines early on is essential to prevent any potential misunderstandings or frustrations.
7. Discussing Next Steps 
After the groundwork has been laid, the conversation will shift towards immediate next steps. This could involve gathering more evidence, speaking to potential witnesses, or preparing for an upcoming court date. You'll leave the meeting with a clearer sense of direction and what you need to do next. 
8. Emphasizing Attorney-Client Privilege 
Lastly, your lawyer will underscore the importance of attorney-client privilege. This legal protection ensures that what you share with your attorney remains confidential. They'll stress the importance of being completely honest with them, as this privilege allows them to best defend you without the risk of that information being used against you. 
Final Thought  
The initial meeting with a criminal lawyer is a foundational step in building a defense strategy. By understanding what to expect, you can approach this meeting with confidence and clarity. 
Remember, the objective isn't only for the attorney to understand your situation but for you to gain a sense of trust and assurance in their capability to represent you effectively. While the journey ahead might be challenging, knowing you have competent representation can provide a sense of security in the midst of uncertainty.