Ever considered purchasing a barrel sauna but weren't sure if it was worth the investment? In this blog post, we'll give you seven reasons why buying a barrel sauna today is a wise decision. From improving your overall health to providing a relaxing retreat right in your own home, a barrel sauna has something to offer everyone. 
So, if you're on the fence about buying one, read on for our top seven reasons why now is the time to take the plunge.
1. Relax & Detoxify Your Body
Barrel saunas are a great way to relax and detoxify your body. The heat helps to loosen muscles and joints, while the steam aids in cleansing the skin and pores.
Barrel saunas work by heating your body from the inside out, which helps to open up your pores and release toxins. The heat also encourages relaxation and stress relief, making it a perfect choice for anyone looking to wind down after a long day.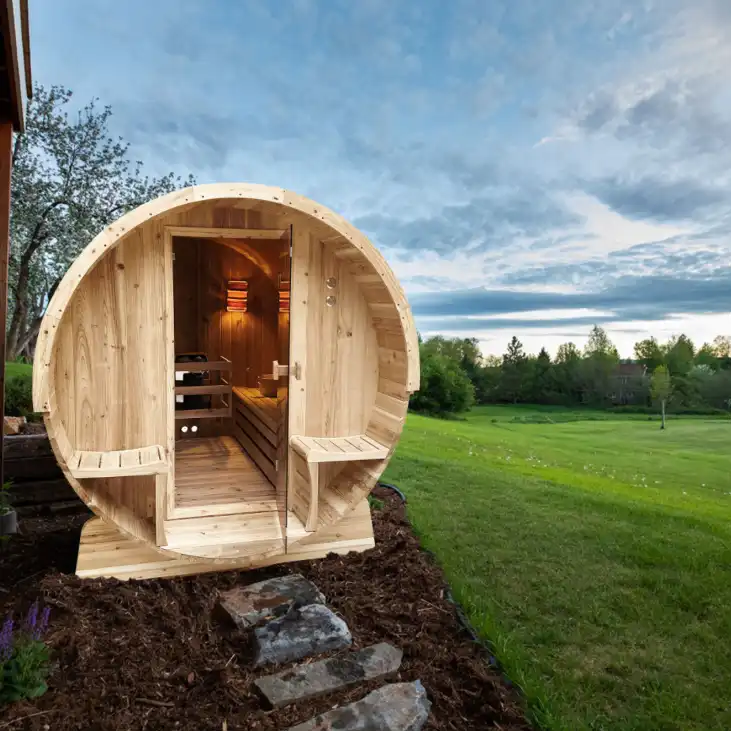 2 Improved Blood Circulation
Barrel saunas are also great for improving circulation and increasing blood flow throughout the body. The heat helps to widen blood vessels and improve blood circulation.
The high temperatures in the sauna help to dilate blood vessels, making it easier for blood to flow through them. 
This can help to improve circulation and increase overall blood flow. Additionally, the heat of the sauna can help to increase heart rate, which also leads to better circulation. The improved circulation and increased blood flow can provide numerous health benefits, such as the reduced risk of heart disease, stroke, and other cardiovascular problems. 
3. Improved Sleep Quality
If you have trouble sleeping, spending some time in a barrel sauna can help you get a more restful night's sleep.
When you use a barrel sauna, your body temperature rises and then cools down. This process can help to ease muscle tension and promote relaxation. The heat also helps to increase blood flow and improve circulation. 
All of these factors can contribute to better sleep. Additionally, the Relaxing effect of the sauna can help you to fall asleep more easily and get a deeper, more restful night's sleep. 
4. A Great Way to Socialize
There's nothing quite like a barrel sauna to help you relax and unwind. And, if you're looking for a great way to connect with friends, family, or co-workers, a barrel sauna is the perfect solution.
Barrel saunas offer an unbeatable combination of privacy and socialization. Whether you're looking to catch up with an old friend or spend some quality time with your family, a barrel sauna is a perfect place to do it. 
And, since they're small and intimate, barrel saunas foster a sense of closeness and connection that you just can't find in larger spaces.
5 More Comfortable
There are a few reasons why barrel saunas are often more comfortable to sit in than traditional saunas. First, the round shape of a barrel sauna creates better circulation within the sauna, which can make it more evenly heated and more comfortable to stay in for long periods of time. 
Additionally, the rocking motion of a barrel sauna can be soothing and relaxing, making it even more enjoyable to sit in. Finally, many people find the small size of a barrel sauna to be more intimate and cozy, which can add to the overall comfort level. So if you're looking for a more comfortable sauna experience, a barrel sauna may be just what you need. 
6 A Great Space Saving Option
Barrel saunas are great space-saving options because they can be placed in small spaces and they heat up quickly.
Their small size also makes them easy to move around, so you can take your outdoor barrel sauna with you on vacation or use it at a friend's house. Most barrel saunas heat up in just 10-15 minutes, so you can start enjoying all the benefits of a traditional Finnish sauna right away.
7 Saves Energy
Yes, barrel saunas do tend to be more energy-efficient than traditional saunas. The reason for this is that the curved shape of the barrel allows the heat to circulate more evenly, which means that you don't need to use as much heat to maintain a comfortable temperature.
Final Thought
If you are looking for a healthy, relaxing way to improve your overall health and well-being, a barrel sauna may be the perfect solution for you. With so many benefits to enjoy, it's easy to see why this type of sauna is becoming increasingly popular. So what are you waiting for? Invest in a top-quality barrel sauna today and start enjoying all the wonderful benefits they have to offer.