Take a minute to compare education this year to that before the pandemic started. What do you see? Education has changed tremendously in a very short time. It has never been stagnant, really, but the last few years have prompted grand changes in how we educate and learn. 
Add technology which advances and changes almost every day, and it's no wonder that education doesn't even resemble that of a decade ago.
Today, we have blended learning, adaptive learning, VR and AR, and many other trends that are popular in academic circles. Students rely on online resources as a spell for good grades. They access free resources and materials to boost the teacher comments for students' writing. 
When a student is tasked to write essays today, they can simply go online and check some essays examples on eduzaurus.com. They use these for inspiration, motivation, and to learn how to best write through examples.
All this is expected to become more widely available by the end of the year. Everything will be streamlined, from doing research to writing a research paper to even grading college papers for the educators. In this article, we'll explore some of the most significant changes that will come in the coming months.
1. Access to Resources and Materials
As education is becoming more focused on technology-helped learning, students will have even greater access to materials and resources for learning. They'll get access to free essay topics and examples, courses to study, as well as opportunities to learn, get tested, and practice.
And it's not just written materials that they can access, too.
Modern technologies like iPads and smart boards are already the norm in modern classrooms. We can expect this norm to continue and with it, the students' participation in using technology to enrich their learning.
Teachers are already using technology to easily grade exams and avoid mistakes. But, the tools used today are just the tip of a very big iceberg. With possibilities that grow every day, students will have more access to data in the future than ever. Even now with AI trending on the market, they can use digital assistants to do research for their papers.
2. Adaptive Learning
Adaptive learning is an educational approach that uses technology to make the learning experience more personalized for each individual. It uses data analytics to learn about the strengths and weaknesses of every student separately. Based on this, adaptive learning will offer personalized materials and activities to individual students, aiming to help them improve in areas where they are struggling.
Even though it is as amazing as it sounds, adaptive learning is still not thoroughly understood or streamlined and as such, it's not used as widely as it should. In the months and years that follow, we can expect the interest in adaptive learning to grow in academic circles.
This is already very present in online learning platforms. Online courses often come equipped with technology that tracks individual students' progress and success and offers them personalized learning opportunities for growth.
3. Blended Learning
When the pandemic started, we didn't exactly have the time to start blended learning or adapt to the changes slowly. Students had to switch entirely to online learning, which is very different from traditional classroom learning.
Now that things are getting back to normal, we are acquainted with both ways of learning and the many advantages that come with them. This is why many educational institutions are forming the practice called 'blended learning', one that combines the two.
In many academic institutions worldwide, students are given the opportunity to choose between traditional classroom or online learning. They can do both depending on their time, learning style or preference. This saves them commute time, gives them better study-life balance, and gives them more opportunities than ever.
Education is more accessible today than it's ever been. Schools are offering exclusive online courses and students from one part of the world can get their degree entirely online without having to move to study at the actual university or college. In 2023, we expect this trend to continue to grow alongside the opportunities given to students.
4. Virtual and Augmented Reality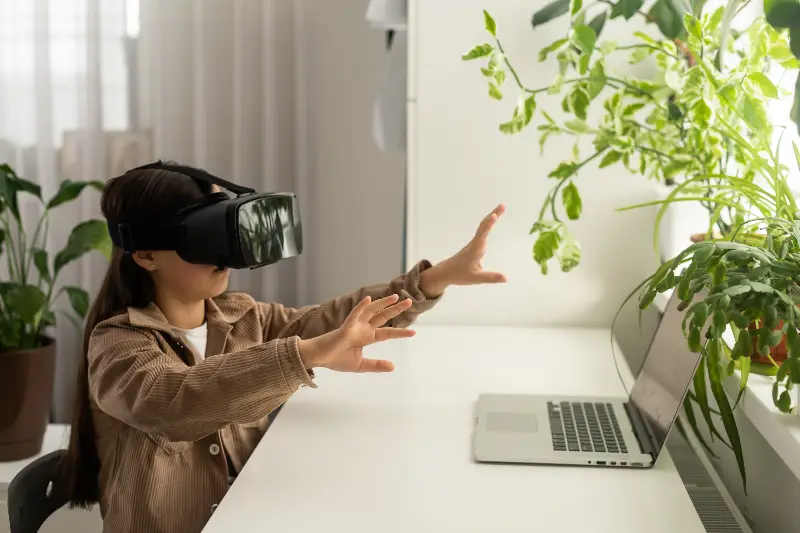 These 2 technologies have been trending for a while now, but their introduction in educational circles has been slow. They are costly and come with a learning curve. However, as they advance, more educational opportunities open when VR and AR are used, so we can certainly expect to see their use become more widespread in the near future.
These two technologies offer interactive, immersive learning that is different from the traditional methods. It's perfect for engaging students and teaching them the most complex ideas and concepts.
5. Educators' Professional Development
By the end of the year, we expect to see more emphasis on the professional development of teachers. As education evolves and adapts to meet the needs of the modern learner, teachers will also need to adapt. They'll need knowledge in technology. They'll need to adjust to a whole new level of learning, blended or entirely online.
The teacher's professional development in the future will probably be more focused on personalized learning and technology-led learning. Schools and institutions will be prompted to provide their educators with opportunities to develop their skills in areas where they need support. These include classroom management, student engagement, and of course, modern digital technologies.
Final Thought
The education landscape is constantly evolving. Just as we've seen grand changes in the couple of years behind us, we can expect to see changes in the years that follow. We'll probably see a slow, but sure growth in the trends in the educational world today including blended learning, adaptive learning, VR and AR technology, etc. 
While no one can predict the future – or the technological advancements, one thing is for sure – we can expect education to change and grow in the months that follow.