Having a dog is one of the many joys in life. Lots of families across the country own a dog. In fact, a little over 65 million families in America own a dog. If you're considering owning a dog, you might be thinking of how you can let it run and play in your backyard safely. 
Here are some fun ideas for a dog-friendly backyard that work no matter whether your yard is a few feet or a few acres. 
Before You Get a Dog
Bringing a dog into the household is a big deal. When you decide to bring a dog into your home, you take on responsibility for them. Similar to toddlers and young children, animals rely on you to keep them safe and healthy because they can't fend for themselves. This extends into your landscaping layout. 
Whether you need to put up a fence or invest in a Tile for pets that uses Bluetooth technology to locate your dog at all times, here are a few things you'll want to do before you get a dog.
Add a Fence
If you own your home, check with your HOA to confirm what types of fences you can put up. A fence is an absolute must with a dog, even if you don't plan on letting them out to roam very often and instead will take them somewhere else. 
There are lots of fence types and materials out there, so you can be sure to find one that matches your price range and the style of your home. Each fence comes with a different maintenance level, so make sure you account for that factor when choosing what type of fence to put up. 
You'll also want to consider the types of fences based on what's safest for dogs. While chain link fences are typically very affordable, they can also do major harm to your dog and don't always keep them in bounds.
Identify the Nearest Dog Park
Dogs need socialization. If you're only looking to own one dog, then make sure you identify the nearest dog park so your pup can interact with other furry four-legged friends on a regular basis. Double-check what's needed for your dog to visit the park, too. 
Do you need to register your dog with the city? Maybe you have to carry around proof of your dog's vaccinations in addition to their tag. Maybe they need to be leashed in certain parts of the park, so make sure you've got a dog collar and leash set on hand they can wear when leaving your home. 
Checking for these things early is a major hallmark of dog ownership, and doing so continues to show responsibility on your part.
Check for Any Potentially Harmful Plants
Check your backyard for poison ivy and any other harmful plants that could kill or sicken your dog if they come into contact with it. If you've been keeping up with your yard, make sure the fertilizer you use is also safe for pets. 
Otherwise, you run the risk of seriously injuring or even killing your dog, especially if they eat the grass or dig any holes and come into contact with the fertilizer. Always make sure they stay inside while you fertilize or treat your yard, too.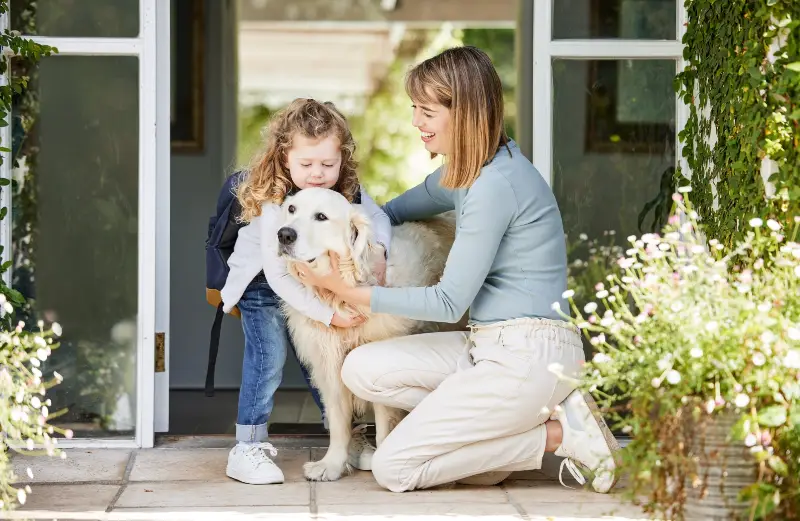 Ways to Make Your Yard Fun for Your Dog
After you've made your yard dog-friendly, you'll want to invest in some things that make it a fun place for your dog to run and play.
Here are some dog-friendly backyard ideas that your pup's sure to love, no matter their age or size of your yard.
Build a Fun Dog House
While you'd never leave your dog overnight in the dog house, it's important that you consider how they'll stay shaded out in your backyard. This is especially if you live in a desert or warm temperature climate. Space that shields your dog from the sun is an essential in your environment. 
You can go a long way in making your dog feel cool and shaded, plus have a place to hang out when they aren't playing around the rest of the yard or they get tired out. Make sure it has a water bowl your dog can drink from to stay hydrated! 
Sculpt a Garden with Dog-friendly Plants
Use dog-friendly plants and flowers to create a beautiful garden. Snapdragons, Zinnias and even Sage are all dog-friendly and safe plant options you can include in your backyard. 
While you might have to train your dog not to frolic through them, if your dog does happen to get into them you know that they won't have to take a trip to the emergency vet just for ingesting them. 
This also goes for the type of grass you lay down on your yard, if at all. Pea gravel is a great alternative to grass, but it does require lots of shade to stay cool for your dog. 
If you want grass but none of the hassle or fear that your dog will ingest too much of it, you can place down artificial turf instead!
Install a Splash Pool or Fountain
Dogs love water. They'll love getting to spend time running around in the water, splashing and playing. If you have a small yard or you're looking for a way to make your dog-friendly yard affordable, a baby pool is perfect. 
You don't even have to fill it up all the way! Just enough water for your dog to jump in and out and splash around will really go a long way in ensuring your dog has fun outside.
A Window in Your Fencing
This one's a little out of the box, but it can be great for handy homeowners who've put up wood or vinyl fences. Simply cut out and frame a slab of clear, durable plastic into your fence so your dog can sit and watch what's happening beyond the fenceline. 
Final Thought
Making your yard dog-friendly takes a little bit of patience, but there are so many ways you can set up your backyard to make it enjoyable for them.