It's interesting to know different fruits that start with E, some you may be familiar with and already have eaten, while others may be totally new to you. Here is the list of 15 fruits that start with E letter and their pictures and explanations.
Eggplant
Most probably you may be familiar with Eggplant. It is a fruit commonly used in cooking with a unique flavor that blends well with other ingredients. It is commonly known as Aubergine or Brinjal in some places. It requires long hot days to grow.
Eggplant has very unique flesh. The texture and flavor are different from root veggies and other mild fruits, such as berries and melons. The flesh is very light purple in color but can vary in tint depending on the variety of eggplant. It ranges from white to blackish purple or even pastel yellow.
Emblica
Emblica is a fruit native to India and other parts of Southeast Asia. It has been used in Indian medicine for centuries, particularly as an antioxidant agent, but also for its anti-inflammatory benefits.
One of the most benefits of Emblica is its potential to help skin issues, including dry skin and wrinkles. The fruit contains Vitamin C, which helps the growth and repair of collagen in the skin. Collagen is the protein that gives skin its strength and elasticity.
Etrog
Image Source
Etrog is a special type of citron, grown in Israel. The fruit has thick skin and a very fragrant rind. It is also known as the "Jewish Citrus", used in certain Jewish traditions during Sukkot – the autumn holiday that incorporates elements of harvest festival and commemorates the wandering of the Jews in the desert after being emancipated from Egypt.
Etrog has a unique taste – it's lemony but not really sweet. It is mainly used as a decoration for Sukkot, to make the festival more joyful and symbolic. The fruit is also eaten as a side dish – either added to salads or cooked into jams and other products. Etrog has a unique taste – it's lemony but not really sweet. 
Egg Fruit
Image Source
Egg Fruit is a special type of fruit that grows on trees. The reason why it is named as such is that it resembles an egg with the skin peeled off as the shell. This would be somehow like a chicken or duck egg.
Egg Fruit can be eaten fresh, and you can feel like eating a hard-boiled egg yolk. It can be used to produce jam, marmalade, pancakes, and flour. 
Entawak
Image Source
Entawak is the fruit of a tree that grows in remote parts of Sarawak, Malaysia. The small round-shaped fruits turn into such a purple color when they are ripe which gives an attractive look. It is surrounded by a white tender covering that looks like a net. 
When you take it back home, remove its outermost layer to reveal its flesh which is whitish in color with tiny black seeds inside each fruit. Apart from tasting good, this fruit has an important function of healing diseases. It is rich in vitamin C and high in fiber. 
Elderberry
Elderberry is a berry easy to find in many places around the world. It has been used for thousands of years for a variety of health issues.
The health benefits of elderberries are immense. Not only do they positively affect your mood and mental state, but also your respiratory system. They help reduce inflammation, heal wounds quickly and just generally boost your immune system so that you do not get sick. Elderberries help fight against the common cold and flu, as well as prevent or reduce other infectious diseases.
Elephant Apple
Image Source 
Elephant Apple is a deciduous tree that grows in some parts of Asia. The fruit tastes a little sharp and a bit sweet to the taste buds. People usually cook Elephant Apple fruit that they have dried for a long time prior to usage. It is better cooked than raw. The pulp of Elephant apple fruit tastes good when boiled in water after which sugar can be added to compensate for its acidity.
Enterprise Apple
Image Source 
Enterprise Apple tastes like a cross between an apple and carrot. Its seeds are also edible. It is the fruit that can be stored for years without losing quality.
Enterprise Apple trees grow very quickly with hydroponics, taking only 4-5 years to bear fruit. In comparison, a regular apple tree takes at least 10–15 years to bear fruit with or without traditional farming techniques.
Emu Apple 
Image Source 
The emu apple fruit is a sour berry that grows on a bush native to Western Australia. The bush can grow between 7 and 15 feet tall with the fruit growing from the branches.
It is related to the apple, peach, plumb and apricot trees. It tastes a lot like a sour green apple or a plum. You can make juices, jellies and jams from this fruit.
Emu Berry Fruit
The emu berry fruit grows in southwestern Australia and belongs to the same genus as does blueberry and cranberry – that is: vaccinium. These berries got their name from their first discoverer: the Emu. The emu bird feeds on these fruits, therefore causing this fruit to be named after the bird.
The emu berry fruit tastes a bit like a raspberry and a bit like a cranberry – which is why it can be enjoyed as a juice, jam or jelly.
In addition to being tasty, the emu berry fruit has also been known for its beneficial properties. It contains lots of vitamin c and antioxidants that help fight all sorts of diseases such as colds, and flu.
Evergreen dogwood
Image Source 
Evergreen dogwood fruits are pink to red, with a sweet taste and about an inch in diameter (2.5 cm.).
Eastern Hawthorn Fruit
Image Source 
Eastern Hawthorn Fruit is a berry fruit that is used in many things, like jams and jellies. It can also be made into an herbal tea or incorporated into wines. The fruit has quite a few benefits for the human body as well.
Eastern Hawthorn Fruit is rich in antioxidants so it can slow down aging, help with producing red blood cells, strengthen the heart muscles, protect against cell oxidation (which causes cancer) and much more.
Eastern Hawthorn Fruit has three different types of nutrients that are good for you: tannins (aids digestion), volatile oil (tones up the body), and alkaloids (helps prevent disease). 
Evergreen Huckleberry
Image Source 
Evergreen Huckleberry is a plant that is native to North America. The berries from the plant can be dried and then used in a variety of culinary dishes. They are mainly used for pies, jams, jellies, compotes and sauces. Evergreen Huckleberry tastes like a combination of grapes and sweet dark cherries.
European Pear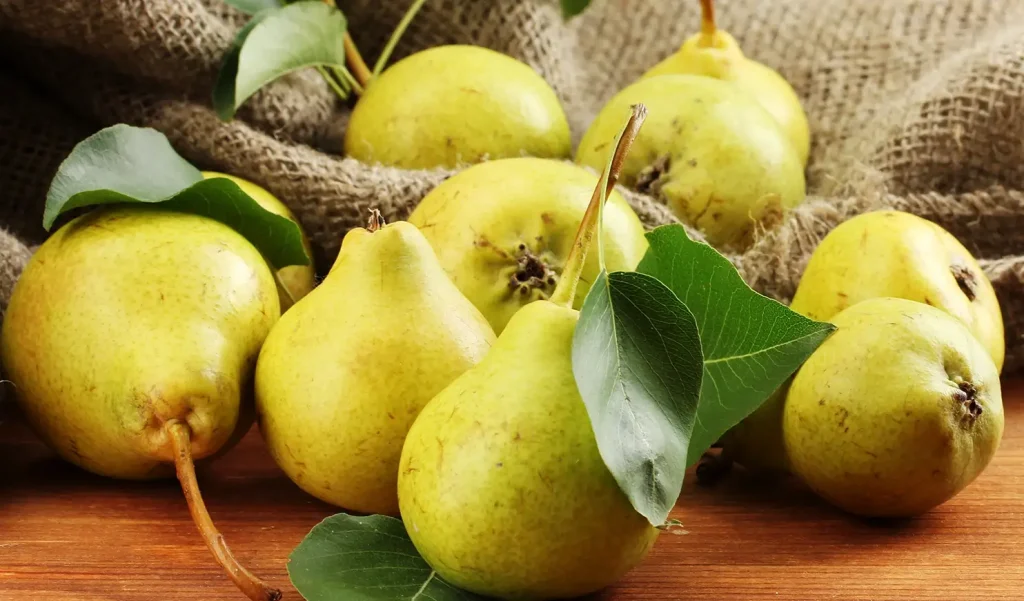 Image Source 
The European pear is used for making fruit juices, jam, ice creams, jellies. It can be cooked with meats or used in salads. Sometimes they are also eaten raw when they are very ripe. The fruits can be used to make pectin which is a thickening agent that is often added to jelly, jams and fruit drinks.
There are many varieties of European pears, eating them is great for your health because they are low in calories and high in fiber which helps lower cholesterol. It can help prevent constipation by increasing stool bulk. 
Early Gold Mango
Image Source 
Early Gold Mango is a variety of mango produced by crossing a variety of mango trees called "Ataulfo mangos" and a hybrid named 'Tommy Atkins'.
The Early Gold Mango is one of the most popular mango varieties distributed in countries like Australia, the United States, Malaysia, the Philippines, Thailand, etc. The flesh has a yellow color and is very sweet and fiberless.
Final Thought
These 15 fruits that start with E grow somewhere in the world. It will be easier for you to find out these fruit when you see it somewhere.
See also: