Installing a new roof and roof repair is one of the most costly home improvements a homeowner will ever have to make, besides major renovations like remodeling a kitchen or bathroom.
It is possible to increase the market worth of your house by replacing an old roof with a more modern one. While appropriate roof structure, preparation, and installation are essential, the material you use for your roof can enhance your house's curb appeal.
Quality and cost are directly related in most home improvement projects, and in roofing, quality usually equates to longevity. When it comes to a roof, it's usually not a good idea to choose a material based on price alone since spending a little more could give you a roof that lasts for decades. A cheap roof that needs replacing every two to four years is not a good deal.
Factors to Consider When Choosing Roof Material
Some homeowners think that beauty is the only thing they need to consider when replacing their roofs, but that's not the case. 
Even though curb appeal is important, your roof is a big part of what makes your home habitable. 
To find the best roofing material for your home and lifestyle, you should think about the roof's slope, how well it stands up to weather, how authentic it looks, its long-term maintenance, energy efficiency, material's weight, and how much it costs.
By the end of this article, you will have a better understanding of the relative longevity of these different types of roofing, in addition to their average cost and lifetime value.
1. Asphalt Roll Roof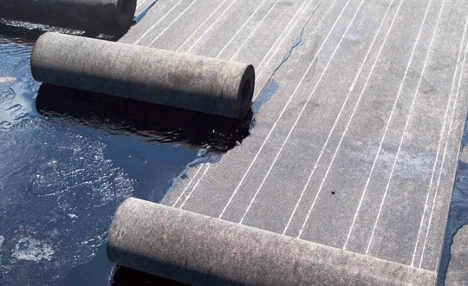 Image credit: homeroofideas.info
If you're looking for a cheaper roof material that can withstand the harsh outdoor elements, go for asphalt roll roofing. This roofing system consists of big rolls of the same materials present in asphalt shingles. It's effortless to install, and most homeowners can do it themselves. 
However, its low price tag has a catch. Asphalt roll roofs aren't the best for home roofs. After all, this material is best suited for smaller structures like porches, garages, and sheds. Still, it can be an excellent temporary roofing material as it's cheap and decently durable. 
Average Lifespan of Asphalt Roll Roof
Asphalt roll roofing on homes can last between 5 and 10 years. Since it's best for smaller structures, its maintenance can be tedious. But with proper upkeep, asphalt roll roofs can last you for a while. So, try to keep debris off of it and address any damage immediately.
Asphalt Roll Roof Installation Costs & Lifetime Value
Most install asphalt roll roofs with a flat peak, which means they can cover 2,000 square feet of the roof area in a 2,000-square-foot-home. This roofing material is extremely cheap, costing only $2.25 per square foot, bringing you roughly $4,500. But the downside is that this needs frequent replacement, whereas you'll need to change it 12 times throughout a century. 
If you want to know more about the asphalt roll roof, you can visit Mighty Dog Roofing.
2. Standing-Seam Metal Roof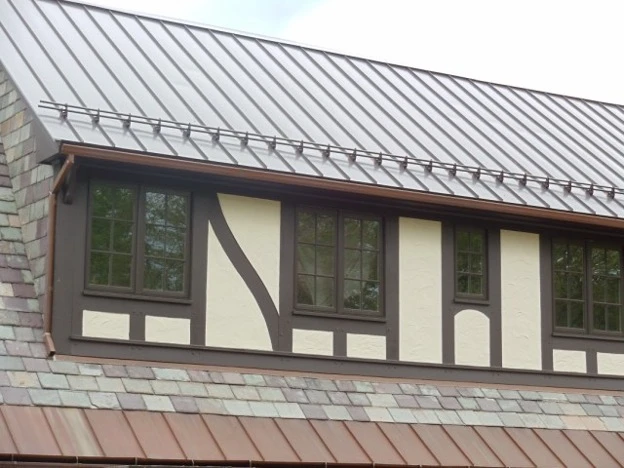 Photo credit: Rick Small
Standing-seam metal roofs are a newer yet increasingly popular type of roof among homes susceptible to wildfire danger. These consist of massive steel panels laid on the roof deck and seams overlapping in elevated ridges running along the roof slope vertically.
They mostly use steel or aluminum, but copper and zinc are also acceptable heat-resistant materials. Aside from being incredibly durable and withstanding extreme heat, standing-seam metal roofs are generally maintenance-free. 
But these metal roofs are prone to denting and require professional installation, making them a tad more expensive than other roofing materials. 
Average Lifespan of Standing-Seam Metal Roof
A standing-seam metal roof can last between 30 and 50 years. It boasts a durable design that can withstand fire and extreme heat, perfect for homes prone to wildfires. But since this roofing material is relatively new, information is still being collected. 
So, it's best to regularly check standing-seam metal roofs to check for distressed, bent, or slipped panels—maximizing their lifespan.
Standing-Seam Metal Roof Installation Costs & Lifetime Value
Standing-seam metal roofs are some of the most expensive roofing you can get. Generally, aluminum and steel can cost you $10 per square foot. Meanwhile, more durable metals like zinc and copper will cost you more, precisely $13 and $18 per square foot. Regardless of the material, paneling a whole 2,000-square-foot home with stand-seam metal can cost you $22,000.
3. Wood Shingle Roof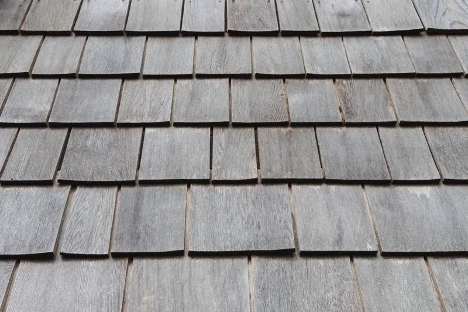 Photo credit: Greg Rosenke
Wood shingle roofs consist of thin, wedge-shaped panels of natural wood sawn from logs. You can get these from cedar, yellow pine trees, and more. This roofing material is one of the most attractive panels you can use but can be extremely challenging to install. Often, you'll need a professional's help to install wood shingle roofs.
Aside from tricky installation, wood shingle roofs aren't the most durable and are prone to fire hazards. So, if you live in an area where you experience seasonal wildfire hazards, look for different roofing materials. 
Average Lifespan of Wood Shingle Roof
Despite being prone to fire hazards, wood shingle roofs can last anywhere from 25 to 30 years. They can even last longer in locations where roofing experiences little to mild conditions and stay free of debris. A wood shingle roof can last you for 50 years when strictly maintained. 
So, keep an eye out for your wood shingle roof and immediately replace any split or cracked shingles. And don't forget to keep it free of moss to extend this roofing material's lifespan indefinitely.
Wood Shingle Roof Installation Costs & Lifetime Value
Wood shingles are expensive and cost you between $6.50 and $11.00 per square foot. So, if you follow the average cost of $9 per square foot, you're looking to spend over $19,000 on a typical 2,000-square-foot house. Aside from that, you'll also need to replace wood shingle roofs at least three to four times throughout a century, costing you up to $80,000.
4. Composite Asphalt Shingle Roof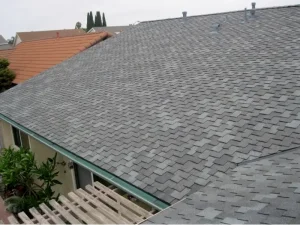 Photo credit: Jeff Jacobson
Composite asphalt shingle roof is the most common and famous roofing material, present in over 80% of homes. It's an inexpensive, durable, and flexible material made of organic or fiberglass base saturated and coated with asphalt. Moreover, its exposed surface contains small chips of schist, quartz, slate, and ceramic granules—making it even more robust. 
Aside from its relatively low cost, this roofing material is highly favored thanks to easy installation and a decent life expectancy. Although professionals usually install composite asphalt shingle roofs, anyone can do it.
Average Lifespan of Composite Asphalt Shingle Roof
Composite asphalt shingle roofs can last between 15 and 40 years with proper upkeep. But besides that, their life expectancy is highly dependent on the quality of the materials used. For instance, some shingle roofs made by the top manufacturers can go beyond 50 years. 
Get the most out of composite asphalt shingle roofs by avoiding cheap shingles and cleaning them. 
Composite Asphalt Shingle Roof Installation Costs & Lifetime Value
Generally, composite asphalt shingle roofs cost around $5 per square foot. But the fees heavily depend on the kind of shingles used alongside the labor costs. However, overall expenses can reach $11,000, including professional installation fees for a normal 2,000-square-foot-home with a standard roof slope for this roofing material.
Composite asphalt shingle roofs only need replacement three to four times during their lifetime. Overall, you'll need around $33,000 to $44,000 for upkeep for over 100 years. And since typical homeowners rarely live in a house for over 30 or 40 years, asphalt shingles make for a reasonably cost-effective roofing option. 
5. Built-Up Roof (BUR)
Photo credit: Karnakcorp
Built-up roofs (BURs) are layered roofing panels made by alternating layers of felt and waterproof materials like hot tar and fiberglass. And thanks to its unique combination, BURs are highly fire-resistant and inexpensive. BURs are best on roofs with a flat or slightly pitched slope. 
Average Lifespan of Built-Up Roof
BUR roofs can last between 20 and 30 years with proper upkeep. You can maximize this roofing material's lifespan by conducting regular inspections and repairs. Also, don't forget to keep debris off BUR roofs to prevent degradation of their surface.
Built-Up Roof Installation Costs & Lifetime Value
BURs are inexpensive, costing you a measly $4 per square foot. So, overall costs, including professional installation, only amount to $8,000 for standard 2,000-square-foot homes. Ideally, you only should replace this roofing material four times for over 100 years. Therefore, you only need to spend around $32,000 for roof maintenance and replacement for a century.
The only downside to BUR roofs is that they're not best for homes with sloped panels. 
6. Wood Shake Shingle Roof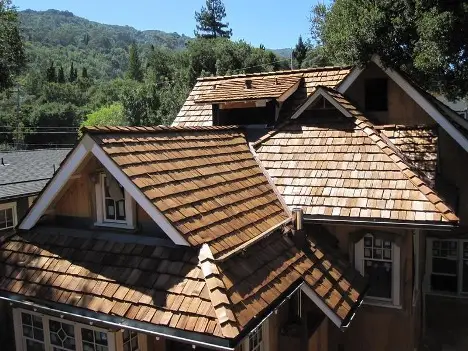 Photo credit: Direct Cedar Supplies Ltd.
Wood shakes are more durable than regular wood shingles, standing up better to harsh weather and UV rays. Still, they aren't easy to install and require professional installation. Moreover, wood shake single roofs aren't the best in environments prone to wildfires.
Average Lifespan of Wood Shake Shingle Roof
Since wood shake shingles are thicker, they last longer than your average wood shingles, staying strong up to 35 to 40 years.
This roofing material doesn't require meticulous upkeep, and regular maintenance should be enough to prolong its lifespan. So, to make the most out of this roof, remove debris and keep it moss-free. 
Aside from that, when you encounter split, curled, or cupped wood shakes, replace them immediately.
Wood Shake Shingle Roof Installation Costs & Lifetime Value
Wood shake shingles are more expensive than regular ones, usually costing over 50% more. Generally, a square foot can cost you around $13, going over $26,000 for a traditional 2,000-square-foot home. Like wood shingles, wood shakes require up to three replacements over 100 years, costing you $78,000. 
7. Slate Roof
Photo credit: RGY23 
Slate is another type of stone roof. Instead of being made of clay or concrete that has been molded, these roofs are made of real stone that has been cut from the quarried rock. Slate naturally breaks into flat slabs, which makes it the best natural stone for covering roofs.
Slate can only be installed by professional roofers. It costs the most among the common roofing materials, but it lasts the longest. Depending on how well you take care of it, it could last as long as your house, even if that's 200 years. Because it is expensive, this type of roof is usually only used on large, high-end homes.
Average Lifespan of Slate Roof
This roof could easily last a century or even much longer. There are still slate roofs in use that have been there for hundreds of years. To make something last this long, replace any damaged slate tiles right away. Ensure that all of the flashings are in the right place and working well. If the copper flashing on your roof has turned black, it's time to get a new one.
Slate Roof Installation Costs and Lifetime Value
The cost of installing a slate roof can range anywhere from around $10 to $75 per square foot, but the average price is somewhere in the neighborhood of $10 per square foot. 
Considering an estimated cost of installation of $30 per square foot, putting slate shingles on a home that is 2,000 square feet in size and has a sloped roof surface of 2,200 square feet can cost around $66,000.
As long as it's properly maintained and repaired, a well-built and maintained slate roof should last for at least 100 years. The expense of installing a slate roof may be initially high. Still, if stretched out over a long period of time, it becomes extremely cost-effective.
8. Cement or Clay Tile Roofs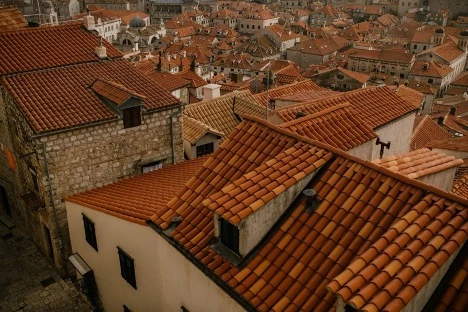 Photo credit: Julia Volk
Due to its incredible strength and longevity, clay tile roofs are common in the Southwest United States, but they can also be found in any part of the country. Ceramic tile roofs (made of fired clay) and concrete tile roofs can replace traditional terracotta tiles. Individual tiles are used in overlapping layers to cover the roof's surface. Each has a similar level of sturdiness and long-term performance. Due to its complexities, they require a heavy-duty roof framework system and should only be built by qualified professionals. This could be the only roof you'll ever need for your home.
Clay Tile Roofs Average Lifespan
When they are well taken care of, clay tile roofs usually last a hundred years or more. The problem with tile roofing is not that it rots like wood shakes or shingles do, nor does it slowly lose mineral grains like composite shingles. Rather, tile roofs can fail because of cracks.
As much as possible, don't walk on your tile roof. 
When efflorescence forms, which mostly tends to happen with terracotta, rub it off with a dry, clean towel. Use a clear alkyd primer to cover the tiles. As soon as you see broken or cracked tiles, you should replace them on the spot.
Clay Tile Installation Costs and Lifetime Value
Depending on the type of tile you choose (terracotta, baked ceramic, or concrete), prices might vary dramatically. Tiles made of ceramic, terra cotta, and concrete can cost anywhere from $10 to $30 per square foot installed, depending on the material. A 2,000-square-foot residence with a 2,200-square-foot sloped roof would cost $44,400 to build with a conventional clay tile roof at the cost of $20 per square foot.
However, because this roof is expected to endure a century, the present-day cost of $44,000 will remain constant over the next 100 years. Tile roofs are a terrific option if you're concerned about the future owners of your home. Because of this, it's possible to avoid the expense of having to redo a tile roof that's less than fifty years old when purchasing a new home.
9. Membrane Roofing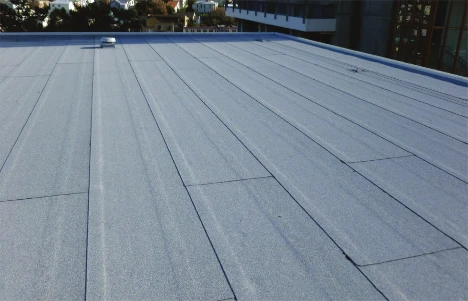 Photo credit: Build Magazine
Membrane roofing, often known as rubber roofing, is similar to a rolled asphalt roof. This type of roofing is installed in huge sections and can be easily cut to size. Even though shingles do a great job of keeping water out, large sections of membrane roofing help keep water out another way: by cutting down the number of seams.
A membrane is a type of roofing material typically considered the best option for low-slope or flat roofs. Neoprene, EPDM, and PVC are some of the most common materials used for roofing membranes.
Membrane Roofing Installation Costs and Lifetime Value
You should anticipate paying between $5 and $10 per square foot for the installation of membrane roof material. As long as the membrane effectively prevents the water from passing through it, you may expect that it will last anywhere from 20 to 35 years before it becomes worn out and needs replacement.
Metal Roofing: The Best-Value Roofing Material
If a person lives in a house for three to four decades before selling it, they might only have to pay $22,000 to replace the roof once. And if you're looking for a new home, one with metal roofing could mean you never have to replace it. Standing-seam metal roofs can be less expensive than asphalt shingle roofs, which are much more common.
Final Thought
It's easy to choose inexpensive options when you are faced with the immediate challenge of financing a new roof when the old one wears out. For most homeowners, that choice usually will be asphalt or composite roofing.
In a situation where you need a new roof as soon as possible, it's natural to go with the cheapest choice. For the most part, asphalt or composite roofing will be the preferred option of most homeowners.
A long-term perspective may reveal that the more costly roofing material is the best value for your home. For ultra-long-term roofing, standing seam metal or slate are ideal options. If you can afford the expense of installation and maintenance, these roof materials are the most cost-effective option for your home.