A home loan or a mortgage is a lending option that allows consumers to borrow funds to buy a home. You will have to meet particular demands and eligibility criteria to become a homeowner. 
If you are planning to take out a home loan, the lenders will review your income, credit rating, debt-to-income ratio, and even the size of the home you want to purchase. 
In this article, we are going to talk about things you need to qualify for a mortgage and ways to boost your chances of approval.
What You Need to Get a Mortgage
Of course, each creditor and service provider may have different criteria but here are common factors that define whether your application for a mortgage will get approved.
1. Credit Rating
This three-digit number is essential for each crediting application. 
Whether you are getting a credit card or a home loan, the lender will check your credit. Credit card owners may also use credit card checks as a payment method. 
They are common for dispensing cash, paying for purchases, or withdrawing funds from a line of credit although some consumers don't like the high-interest rates associated with cash advances. 
A higher rating demonstrates your creditworthiness to the creditor and showcases your ability to pay the debt obligations off. 
Poor credit borrowers present higher risks of default so their applications may be rejected. Hence, homebuyers with higher scores have more chances of approval and are typically offered more flexible lending terms. 
Conventional banks and lending institutions such as Fannie Mae require borrowers to have a rating of at least 620, while it's possible to obtain an FHA-insured loan with a score of 580 and higher.
2. Debt-to-Income Ratio
This is another important criterion crediting companies will typically take into account. 
Your debt-to-income (DTI) ratio is the percentage you get if you divide your monthly debt payments by your gross income. This ratio is important as it demonstrates if you have enough funds to finance prospective mortgage payments together with existing debt obligations. 
Borrowers need to have a low DTI ratio, it would be better if this percentage is below 40%.
3. Down Payment
When a consumer closes on a home loan, he or she needs to remember the percentage of the home's purchase price. This is the down payment which is the initial investment a consumer makes in their home. 
This sum is significant for getting affordable rates and conditions for your home loan. A larger down payment may also lower the loan-to-value ratio. 
Typical mortgages demand this payment be from 5% and higher.
4. Employment History
Consumers with stable employment increase their odds of mortgage approval. After all, who would want to issue the funds to the unemployed borrower? 
Most crediting institutions want to check that you've been working consistently for several years. You may have a regular full-time position or be self-employed. 
Either way, you should be ready to provide your bank statements or self-employment tax returns for the past two years.
How Many Homes Can I Afford?
The Benefits Finder questionnaire is designed to help consumers find benefits they can be eligible to obtain and direct them to the company to apply. 
Those seeking assistance and lending options for getting a home loan can also find relevant resources and aid. 
You may also find an online mortgage calculator to learn the potential interest rates you may have and compare offers from several lending companies.
How much an applicant can afford can be defined with the help of a certain formula – it should be around three times the gross annual income. 
Yet, every situation is unique so you may need to look at your monthly budget and create a more realistic formula to suit your financial needs. 
Once you understand what type of mortgage payment you may afford, you should also take into account such additional factors as insurance, taxes, maintenance, as well as other expenditures.
Generally, the crediting partners aren't willing to deal with consumers having monthly payment obligations of more than 28% to 44% of the applicant's monthly income. 
You may be allowed to exceed 44% in case you have an excellent credit rating and the creditor wants to cooperate with you. 
Thus, mortgage calculators can be beneficial to check what mortgage payments you may afford.
Ways to Boost Your Chances of Approval for a Home Loan
According to the recent article on Household Debt-to-Income Ratios in the Enhanced Financial Accounts issued by the Federal Reserve,  during the Great Recession, there is a link between household leverage and economic growth.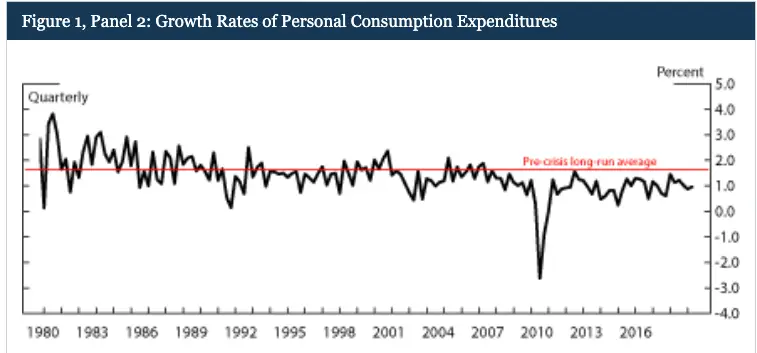 Image source
Personal consumption expenditures (PCE) decreased rapidly during the recent financial crisis in 2008. After that, American families significantly lowered their indebtedness to their income. 
It means that households either lowered consumption costs to repay existing debt or defaulted on their loan payments. 
Personal consumption expenses were rather low since the financial downturn compared to pre-crisis average figures.
Here are some tips to help you increase your odds of getting approved for a home loan:
1. Repay Existing Debt
If you have a mountain of debt, your DTI ratio is too high and lenders don't want to work with you. After you pay your current debt obligations off, your DTI ratio will lower. There are several strategies to reduce debt. You may try the debt snowball or avalanche options. Some people find it easier to tackle the debt with the highest interest first, while others prefer to start with the lowest debt.
2. Improve Your Credit 
As we've mentioned above, your credit rating plays a significant role during the application for a home loan. This factor may help you get approved so take some time to boost it by making on-time monthly payments and catching up on any late debt obligations.
3. Save for a Down Payment
If you have enough savings for a down payment, you will be able to qualify for more favorable terms. Lower your monthly spending by creating a budget to help you increase your savings. Besides, you may find a side hustle.
4. Think About a Co-signer
If your credit score is below average and you don't have too much time to repair it, you may consider a co-signer. This person will take partial responsibility for your mortgage so it should be a consumer with an excellent credit score and good payment history.
Final Thought
A home loan means a mortgage you are planning to take out to become a homeowner. 
This lending option is suitable for the consumer with decent credit ratings, steady employment, and a low debt-to-income ratio. 
You need to meet certain requirements to get approved for a mortgage. 
If you want to be offered the most reasonable rates and terms, take some time to boost your chances by getting an extra job, improving your credit, or finding a co-signer.