A majority of the sales and marketing campaigns are designed with the objective of increasing conversions. Organizations deploy various strategies to generate more leads and convert prospects into customers. 
However, there should be a step-wise process to convert a lead into a customer. With a B2B sales funnel, you can design the different stages a prospect might go through. These insights help you create better and personalized strategies to ensure more conversions.
What is B2B Sales Funnel?
A sales funnel is the visual representation of a customer's buying journey right from the early stage to the purchase stage. Sales funnels are utilized to map prospects through the various stages of their buying journey and help them make better buying decisions. 
The primary objective is to convert the lead into a customer. The sales funnel optimizes every touchpoint to provide relevant information and guide the leads through the customer journey.  
Why Does your Business Need a Sales Funnel?
The B2B sales funnel provides you with the strategies to convert prospects into leads. It guides all the stakeholders involved throughout the sales journey. A good sales funnel breaks down the buying process into different stages to simplify the process and make it more effective. 
Every stage in the funnel is designed to convert leads into customers. Along with increased sales qualified leads and customer retention, a B2B sales funnel also offers the following benefits:
Increased lead engagement

Enhanced lead nurturing strategies

Better understanding of the customer data and buying behavior

Optimized sales process and

conversion rates

Better customer experience

Effective monitoring of every customer touchpoint

Enhanced productivity and business revenues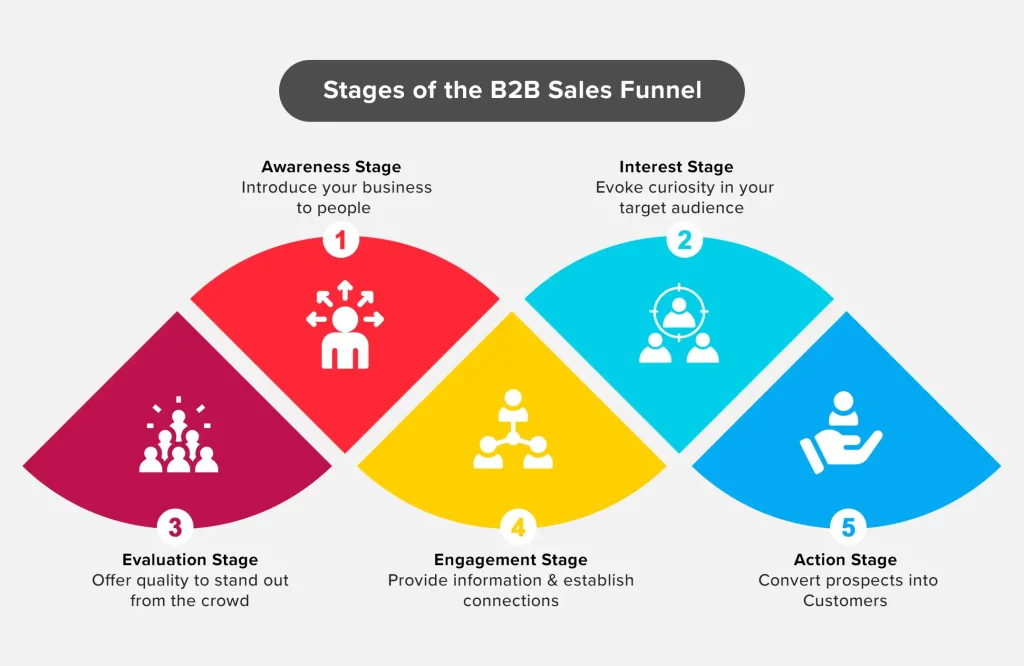 B2B Sales Funnel Stages
1. Awareness Stage
During the awareness stage, people are introduced to your business and its offerings for the first time. This stage decides your brand's perception and identity. Customers are searching for solutions to their problems. 
This is where you provide valuable information to them through your website, social media presence, content resources, and more. This will help them understand your business offerings better and make informed buying decisions.
Since this would be the first time your audience comes to know about your business and interacts with you, it becomes crucial to create a great first impression. 
The content and information you provide act as the first touchpoint. You must ensure your content provides all the information that a prospect would require to understand your solutions.
2. Interest Stage
The first impression that you create during the awareness stage influences the audience's perception of your business solutions. This leads to an interest in your offerings. Once they are certain about your brand, they are keen to know more about your products and services. 
They might try to research more on your company on different platforms and gather information and reviews about your solutions. The audience can also check out your competitors to compare the quality and pricing of your solutions to get the best possible deal.
It becomes important to ensure that your products and services stand out from the crowd. Offering unique values to your customers along with quality and efficiency will attract them to your business.
3. Evaluation Stage
Once users are interested in your products and services, they conduct research on their own and gather as much information as possible before making the final purchase decision. 
During the evaluation stage, they review your business offerings and analyze everything they've learned about your brand and solutions.
Your marketing efforts should provide personalized and relevant content to users trying to evaluate and compare your products and services with your competitors. Once they are able to see a better value addition through your services, the probability of them choosing you over your competition increases multifold.
4. Engagement Stage
By the time they reach the engagement stage, your prospects have already researched and understood your business offerings. Now, they wish to understand the quality and value they would get after associating with your business. This is where interaction with the sales team proves to be crucial.
Proper engagement with the prospects will help your team understand their pain points, their expectations from the solutions you offer and the influencing factors that impact their buying decisions. Organizations should leverage this stage to build meaningful connections with prospects and earn their trust and loyalty.
5. Action Stage
This is the final stage of every B2B sales funnel. As the name suggests, this is the stage where a prospect makes the final decision regarding making the purchase. After extensive research, information exchange, understanding, evaluation, and interactions, prospects are in a better position to make informed buying decisions.
The relationship your team builds with the prospect through marketing and outreach campaigns, discovery calls, free demo sessions and other interactions, creates a strong impact on the brand image and the final decision-making process.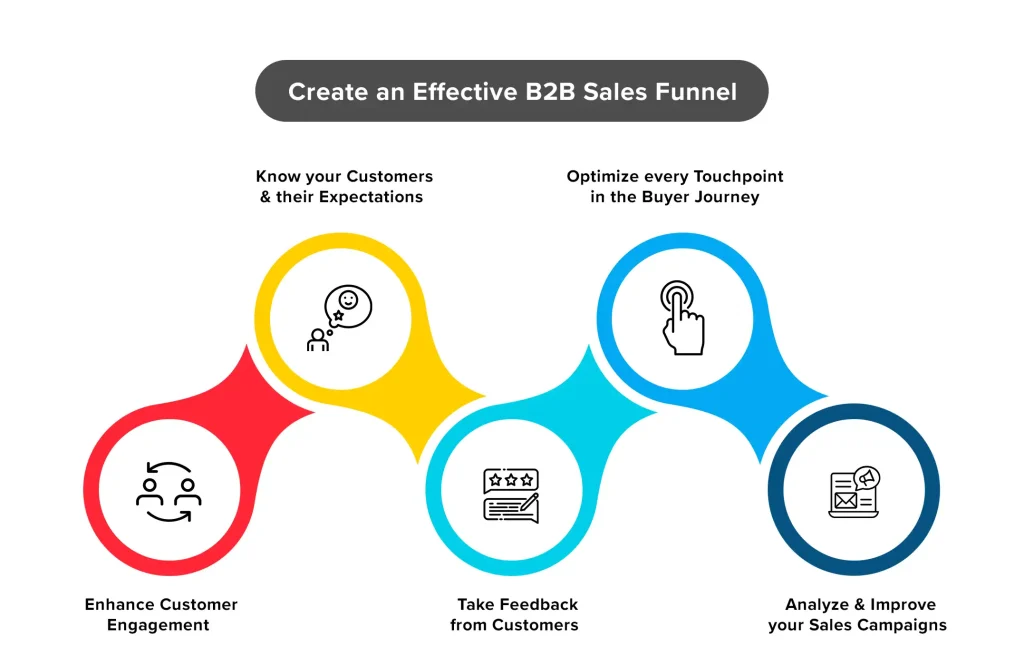 How to Create B2B Sales Funnel
1. Understand your Customers
It's important to know what your customers are looking for, their pain points and their expectations. This helps you personalize the marketing campaigns and offer relevant information that will help them find solutions to their problems. If you ace this, customers are more likely to recommend your products and services to others.
2. Optimize Every Stage of the Sales Funnel
Prospects go through different stages during their buying journey. Optimizing every touchpoint can have a positive impact on your sales. Providing relevant, helpful, and value-adding information is a great way to optimize the customer experience. Further, you can establish meaningful conversations with them to understand their needs, ask them discovery questions, and offer customized solutions.
3. Deploy Better Engagement Strategies
In today's competitive market where customers have so many options to choose from, it has become crucial to stand out from the crowd and establish deeper connections with the prospects. 
Your customer engagement strategies should align with your sales goals. Better engagement helps you understand the customers and provide more information about your products and services that will help them.
4. Consistently Communicate with your Buyers
Your customer engagement should never stop once you have made the sale. It is important to maintain a relationship with them to get their feedback. Their experience while using your products and services will help you identify the areas of improvement. 
This also tells the customers that you truly care about the quality and value you provide along with the business offerings. This not only enhances the customer experience but also builds trust and loyalty.
5. Track & Monitor your Conversion Rates
Monitoring your sales conversions will help you understand how your strategies and campaigns are performing. These insights will help you identify the problems or factors that are slowing down your sales conversion process and impacting your customer experience.
Final Thought
A B2B sales funnel helps the marketing and sales team optimize the buyer journey and improve the business outcomes. It increases the chances of a lead converting into a customer. 
It requires a dedicated lead generation strategy across every sales funnel stage to generate more sales qualified leads and convert them into customers.
Alternatively, you can partner with bespoke B2B demand generation service providers. You can leverage their expertise and resources to boost your business outcomes while utilizing your internal resources for other business-critical functions.