If you're a homeowner, having a comfortable indoor environment all year round is important. Heating, ventilation and air conditioning (HVAC) systems help regulate indoor temperatures and air quality. Nearly 88% of U.S. homes use air conditioning, with two-thirds using a centralized HVAC system. 
Selecting the appropriate HVAC system for your home is crucial, as the efficiency varies between systems. For example, an energy-efficient mini split can save you money and reduce energy usage. Familiarizing yourself with the different types of HVAC systems can help you choose the best fit for your home.
1. Packaged HVAC Systems
A packaged HVAC system is an all-in-one heating and cooling unit installed outside a building, typically on the roof or a concrete slab. All components of an HVAC system are housed in a single unit, including the compressor, condenser, evaporator and air handler. 
This type of system differs from a split system, where the components are separated and installed inside and outside the building. Packaged HVAC systems use ducts to distribute hot or cold air throughout a building.
While ducts can effectively deliver air, they can also lead to inefficiencies in temperature control. For example, ducts can leak or become blocked, causing air to be delivered to the wrong areas of your home, leading to energy waste. Ducts can also allow outside air to infiltrate the building, reducing the system's effectiveness. 
2. HVAC Split Systems
Traditional heating and cooling split systems are among the most commonly used HVAC systems in homes and buildings. These systems consist of two main units, one for heating and one for cooling, typically located inside and outside the building.
The outdoor unit contains a cooling system that uses refrigerant, compressors and coils to cool the air, while the indoor unit houses the heater, which uses gas to warm the air.
These split systems use a traditional thermostat to regulate temperature and can also come with additional features, such as air purifiers and humidifiers, to improve indoor air quality.
However, using ducts to circulate the air can lead to inefficiencies in temperature control and energy waste due to damaged ducts, obstructions like debris or dirt, clogged air filters or improperly sized ducts or air registers.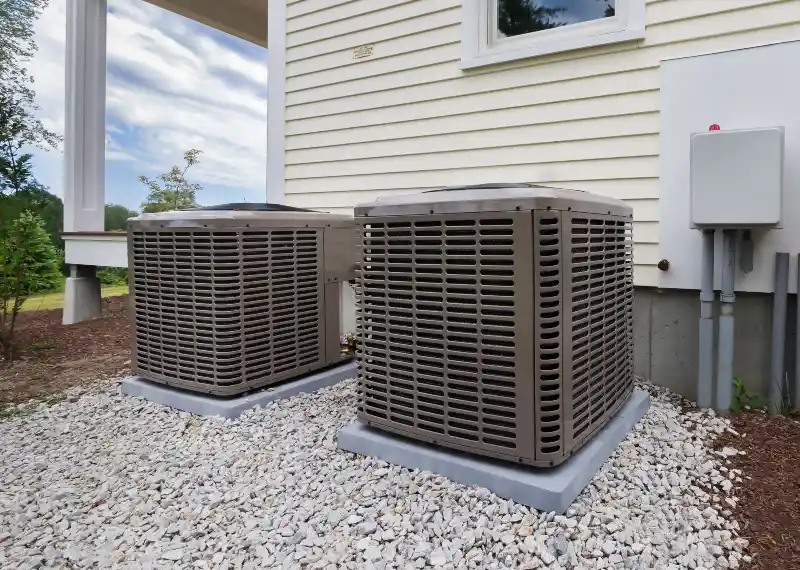 3. Hybrid HVAC Systems
Hybrid HVAC systems combine two or more heating and cooling technologies, typically an electric heat pump and a gas furnace. These systems automatically switch between the two based on the outdoor temperature and indoor demand, maximizing efficiency and cost savings.
When the temperature is mild, the system will use the electric heat pump, which operates on electricity and can provide both heating and cooling. The gas furnace will kick in as the temperature drops to provide additional heat. The switch is automatic and seamless so that occupants won't notice any change in comfort.
Hybrid HVAC systems are more energy-efficient than traditional heating and cooling systems, saving homeowners money on utility bills while reducing their carbon footprint. They also offer greater flexibility in terms of fuel source and can provide reliable heating and cooling in all weather conditions.
4. Duct-Free HVAC Systems
Duct-free HVAC systems, also known as ductless or mini split systems, are a popular option for heating and cooling homes and buildings. These systems use an outdoor unit, which houses the compressor and condenser, and one or more indoor units that deliver conditioned air directly into the room they are installed in. 
This setup enables zone heating and cooling, so you only need to use the HVAC for the room you are in. The indoor units are connected to the outdoor unit by a small conduit that houses the refrigerant, power cable and drain lines.
This eliminates the need for bulky ductwork, making duct-free systems an ideal solution for homes or buildings that don't have existing ductwork or spaces where adding ductwork would be difficult or costly.
Mini splits are up to 30% more energy efficient than other models. They also offer easy DIY installation, especially models with pre-loaded refrigerant lines like MRCOOL 4 Zone Mini Split. They can also improve indoor air quality by eliminating the potential for dust and allergens to accumulate in the ductwork.
How to Choose the Right System for Your Living Space
Choosing the right HVAC system for your living space is crucial to ensure maximum comfort and efficiency. There are several factors to consider when selecting a suitable system.
Capacity
Finding the right capacity HVAC system for your home is essential for ensuring proper heating and cooling, energy efficiency and cost savings. HVAC capacity is typically measured in British Thermal Units (BTUs) or Cubic Feet Per Minute (CFM).
To find the right system for your space, calculate your home's square footage by measuring the length and width of each room and multiplying them to get the area in square feet. Add up the square footage of all rooms to get the total square footage of your home.
If you want a zoned or ductless system, you only need to add up the square footage of the zone or room you want to heat and cool. You typically need an HVAC system that offers around 20 BTUs per square foot of space. For example, the average American home measures around 2,480 sq. ft. A home this size will need an HVAC system that offers a total of 49,600 BTUs.
Maintenance
Packaged HVAC systems have an all-in-one design that can make them difficult and expensive to repair. It can cost between $5,000 and $10,000 to replace a broken HVAC unit, including the central heating and cooling component or the ductwork throughout your house.
Savings
Since duct-free systems do not rely on ductwork, they are typically more energy-efficient, as there is no loss of conditioned air through duct leaks or poorly insulated ductwork. This can result in lower energy bills and long-term cost savings. Energy Star certified dual zone mini split models use up to 60% less energy, making these models an excellent choice for cost-savings.
Invest in an Energy-Efficient HVAC System
When choosing an HVAC system for your home, it's helpful to understand how each system works and how it can impact your energy usage and heating and cooling efficiency. Upgrading to a high-efficiency duct-free system or a hybrid HVAC system can help reduce energy usage and lower costs, providing significant savings for your household.