Do you ever wonder about Dan Pena's net worth? Dan Pena is a successful Mexican American businessman, business consultant, author, and motivational speaker. His business strategy Quantum Leap Advantage (QLA) in helping entrepreneurs achieve success makes him famous. 
Pena is estimated to have an estimated net worth of $500 million in 2022. In this article, we'll discuss how he makes money from nothing to rich, as well as what we can learn from his successful business career. 
Early Life 
Dan Pena was born in a regular family as Daniel S. Peña, Sr. in Jacksonville, Florida on August 10, 1945. His parents immigrated from Guadalajara, Mexico. That's why Pena can speak Spanish fluently. Pena Grew up in the barrio after his family moved to East Los Angeles, California. He graduated from Reseda High School in 1963. 
Pena's father was a WWII and Korean War veteran, CIA officer, and the principal investigator in the RFK assassination investigation in 1968. He didn't put up with any foolishness from his children and believed in tough love, which Pena received. 
Crime and violence were common in the place where Pena lived. The environment impacted Pena and made him a bad boy. Pena's father was angry and asked his police friends to beat Pena when he saw Pena repeatedly jailed for various alcoholic incidents.
Pena afterward voluntarily joined the US Army as a private in the late 1960s, and served as a Military Police Officer, Security Officer, and Intelligence Officer. Then he graduated from Infantry Officer's Candidate School as a 2nd lieutenant at Fort Benning, Georgia.
Pena returned to college (San Fernando Valley State College) after serving in the Army and completed his four-year degree in Business Administration and Economics in 2.5 years in 1971. 
You can learn more about him on Pena's website: https://www.danpena.co.uk/about/
Starting Career
After graduation, Pena first worked in real estate as sales in many companies. Then he became a financial analyst at Bear Stearns and Co., an investment banking firm in Wall Street.
Later, Pena became CEO of Kennedy Industries Inc., a corporation with significant real estate, financial services, and entertainment holdings. Then he was named Chairman of JPK Industries, Inc., a petroleum vertically integrated corporation that engages in oil and gas drilling, production, and crude oil refining. It was from here that help him a lot in his future career.
Great Western Resources Inc. (GWRI)
Pena founded Great Western Resources, Inc. (GWRI) in 1982 with only $820. The company was a Houston-based natural resource company with a focus on oil and gas exploration and production, as well as mining.
The company was listed on the London Stock Exchange and its public market capitalization was $450 million in 1992. It was within this year that Pena had to leave the company.
Pena is a strong man who always fights for what he wants and defends himself. This led to Pena suing the company for $4 Million. GWRI was sold in 1997 and Pena was the biggest individual shareholder at that time. He received $3.3 million from an American jury, also a big money from selling GWRI, then invested the funds into a new business venture. 
The Guthrie Group (TGG)
In 1997, Pena founded The Guthrie Group, an investment consortium specializing in Facilitating Transactions in High-End Real Estate, Energy, Mining & Natural Resources.
The Guthrie Group has a global reach with investment vehicles and programs that invest in high-end real estate, energy, mining, and natural resources. The Guthrie Group's investment philosophy is based on the concept of "Facilitating Transactions." This means that TGG works with partners to identify and facilitate transactions that create value for all parties involved.
TGG has a long history of successful investments in some of the world's most iconic properties, including The Ritz-Carlton New York, Central Park South, and The St. Regis New York. TGG has also been active in the development and ownership of energy projects, including natural gas pipelines and power plants.
Guthrie Castle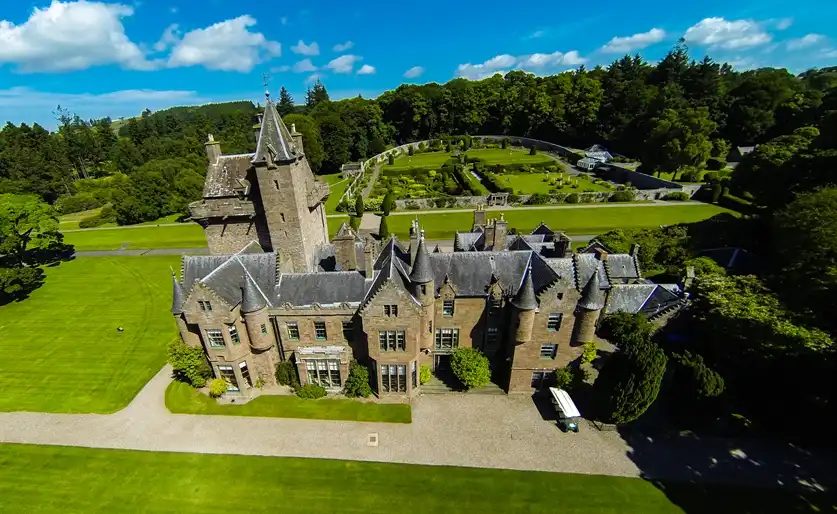 Image source
Pena purchased Guthrie Castle in 1984. The castle is located in Scotland. Guthrie Castle was built in the 15th century. The Guthrie family owned the property for nearly 500 years. The castle was used as a family home and as a military base during the Scottish Wars of Independence. In the early 19th century, the castle was remodeled in the Gothic style.
Pena modernized the castle and added a golf course after he bought it. Pena uses Guthrie Castle to host business retreats and his QLA business seminars.
Quantum Leap Advantage
Pena is the founder of Quantum Leap Advantage (QLA), which is a unique, self-mastery system that helps people achieve success in any area of their life. He has been teaching this system to entrepreneurs about business development from all walks of life for nearly 30 years with great success. It makes him known as "The Trillion Dollar Man".
He conducts these week-long seminars in Guthrie Castle. The tickets for these are more than $25K. 
Pena's QLA is a system that can help you achieve success in any area of your life. It is based on the belief that we are all connected to a higher power or force, and that by tapping into this power, we can achieve our goals and dreams.
The QLA system has four main components:
1. Visualization 
This is the process of creating a mental image of what you want to achieve. Pena believes that our thoughts create our reality, so by visualizing what we want, we are more likely to achieve it.
2. Affirmations 
These are positive statements that you repeat to yourself on a daily basis. By doing this, you program your mind to believe in your ability to achieve your goals.
3. Goal Setting
This is the process of setting clear and achievable goals. Pena believes that it is important to set goals that are specific, measurable, attainable, realistic, and time-based.
4. Action Steps
This is the process of taking concrete steps towards your goals. Pena believes that it is important to take small, incremental steps that will lead you closer to your goal.
Dan Pena

Net Worth 2022
Pena's net worth is estimated at $500 Million as of 2022. Most of his wealth has come from the QLA program, real estate, The Guthrie Group, and other business ventures. Pena is in his mid-70s but is still working hard.
What Can We Learn From Dan Pena
Pena has an incredible story of personal and professional achievement. He overcame humble beginnings in the barrios of East Los Angeles to become one of the most successful and respected entrepreneurs in the world.
In addition to his work with the QLA Methodology, Pena is also a highly sought-after motivational speaker. He has spoken at some of the most prestigious events and conferences around the world, including the Tony Robbins seminar and the TEDx conference. 
You Can Overcome Any Obstacle If You Have Enough Drive And Determination
No matter how old you are, it's never too late to start working towards your goals. Pena overcame a number of obstacles on his journey to success. He was raised in a poverty-stricken area of Los Angeles, but he was able to achieve great things by working hard and never giving up on his dreams.
Pena is a firm believer in taking personal responsibility for your own life. He believes that we all have the power to create our own destiny, and it is up to each of us to take charge of our lives and make things happen.
You Need To Take Massive Action If You Want To Achieve Big Things In Life
Pena is a strong advocate for personal development and growth. He believes that we all have the potential to achieve great things in life, but it is up to each individual to take charge of their own destiny and create their own success.
Pena is a big proponent of taking massive action. He believes that it's important to take risks and go after your dreams with everything you've got. If you want to achieve big things in life, you need to be willing to put in the hard work and take some chances.
---
Image source