Cannabis contains a variety of cannabinoids, each with different effects on the body. Delta-8-tetrahydrocannabinol, or delta-8 for short, is a cannabinoid that has become popular in recent years because of its supposed medical benefits. 
Many have been asking whether delta-8 is very new in the cannabis industry. Well, the widespread use of delta-8 is new, but this is because of the 2014 farm bill. Conversely, delta-8 has been researched for decades.  
In this article, we explore the benefits of this new cannabinoid.
What Is Delta-8?
Delta-8 is a naturally occurring cannabinoid present in the plants of cannabis. It is similar in structure to delta-9-THC, the active ecstatic cannabinoid in cannabis, though with slight differences in molecular structure. Delta-8 is less abundant than delta-9 in cannabis plants. This makes it harder to extract.
How Does Delta-8 Work in the Body?
Like other cannabinoids, delta-8 works by interacting with the body's ECS. The endocannabinoid system is a network of neurotransmitters and receptors that helps to regulate a variety of bodily functions, including sleep, pain, appetite, and mood.
Delta-8 works with the endocannabinoid system's CB1 receptors, which are mostly in the central nervous system. This binding turns on the receptors, which has a number of effects, such as improving mood, reducing inflammation, and relieving pain.
However, delta-8 produces milder psychoactive effects than delta-9.
Benefits of Delta-8
Delta-8 has several potential benefits. One of the most important possible benefits of delta-8 is that it can make people feel less sick and less likely to throw up. Studies have found that delta-8 has antiemetic properties that make it effective at reducing nausea and vomiting in chemotherapy patients. It may also be effective at reducing nausea and vomiting in other conditions, such as motion sickness and morning sickness.
Delta-8 may also have analgesic properties, which means it could be effective at reducing pain. Some studies have found that delta-8 is as effective as delta-9 THC at reducing pain, but with fewer side effects. This could make it a promising alternative to traditional painkillers, which can be addictive and have a range of side effects.
Also, delta-8 may have anti-anxiety effects, which means it could help people feel less anxious. While more research is needed to confirm this, some studies have found that delta-8 can reduce anxiety in mice.
Some anecdotal reports say that delta-8 helps people sleep, but there is no scientific evidence to support this claim right now.
Side Effects of Delta-8
While we are happy with the benefits delta-8 stands to offer, let's not forget that there are still some potential side effects of delta-8 to be aware of. 
Some users have complained of increased thirst, dry eyes, and dry mouth, all of which can be mitigated by drinking more water. 
Delta-8 can also cause drowsiness, so it's not recommended to drive or operate machinery while under its influence. And, of course, like any other form of cannabis, delta-8 can cause a positive result on a drug test.
Everyone's body chemistry is different, so the effects of delta-8 can vary from person to person. Some may experience more pronounced side effects than others, while some may not experience any side effects at all.
Conversely, while delta-8 THC may offer a milder high than its more potent cousin, delta-9 THC, it's still important to be aware of its potential side effects. As with any substance, it's always best to start with a minimal dose and gradually work your way up to determine how it affects you personally. 
So, stay safe, stay informed, and have fun exploring the world of delta-8!
Is Delta-8 Legal?
The legality of delta-8 is a bit complicated. The federal Controlled Substances Act, which says that THC is a Schedule I drug, doesn't say anything about delta-8. But the DEA just put out an interim rule that says all cannabinoids made in a lab, including delta-8, are illegal under federal law.
The legality of delta-8 varies from state to state. Some states, such as California, allow the sale of delta-8 products, while others have explicitly banned them. Check the laws in your state before using any delta-8 product.
How To Consume Delta-8 For Optimum Results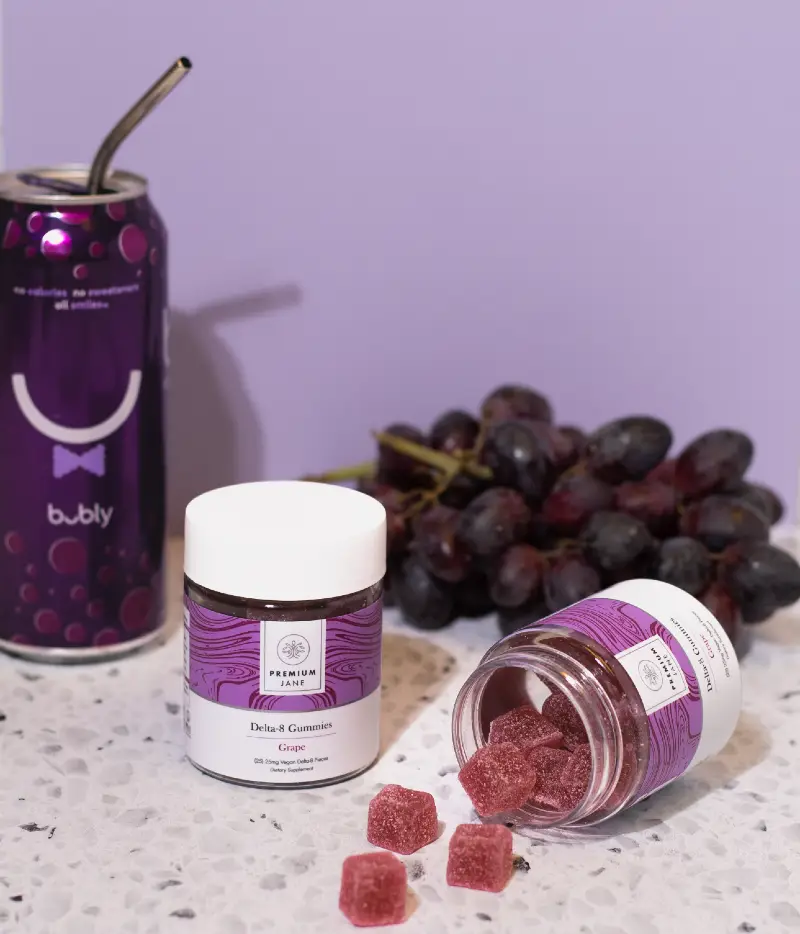 First things first, the way you consume delta-8 can have a big impact on your experience. Some ways of taking drugs will make you feel the effects faster, while others will take longer. 
So, here are a few ways to consume delta-8 products and some tips for getting the most out of each method for a better experience.

Tinctures

: These are a good option if you're looking for a more controlled dosage. They can be taken under the tongue or added to food or drinks. Start with a low dose and adjust as needed.

Gummies

: Delta-8 gummies are another popular option, and they can be a great choice if you're looking for a longer-lasting high. Keep in mind that gummies can take up to two hours to kick in, so don't be so quick to take more immediately. Start with a low dose and be patient.
While you would love to have a taste of Delta-8 products, the Delta-8 Premium Jane products are of the highest quality without equal. The Premium Jane brand produces various delta-8 products to suit its customers. Convincingly, they source all of their products from organic hemp, making these products legal and safe to use.
Final Thought
Delta-8 is a new cannabinoid that has gained a lot of popularity due to its therapeutic benefits. Although more studies are being done on delta-8, you must consume each product cautiously to know what dosage is suitable for you.