The faucet is one of the most used appliances in the kitchen. Therefore, it should be functional and stylish at the same time to meet the criteria of use. You don't have to wait for a whole kitchen design to enjoy an upgraded version. The good news is that there are several high-quality faucets to pick from.
We will go through the different types of kitchen faucets today. Then, you can pick the perfect faucet for your needs. Let's read on to discover different types of kitchen faucets.
There are several ways to classify kitchen taps, such as by handles (one vs. two handles), reach (pull-out or pull-down), and mounting style. If you install a faucet to build or upgrade your kitchen, your options will be limitless due to the various sorting methods.
Here are the top models that you may like.
Pull-Out Faucets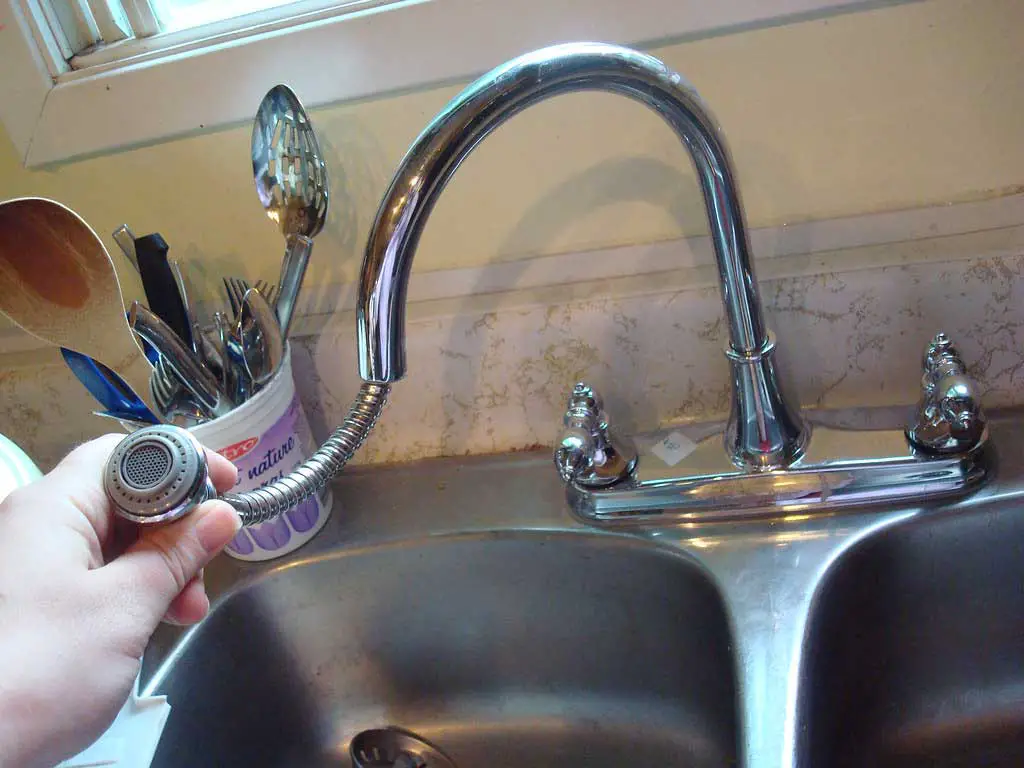 The faucet can stretch to a long range (image source)
The name implies its design and function: a faucet that you can pull out from the wall. It has a removable head to draw closer to you using a hose.
This model is valuable kitchen equipment for dishwashing, cleaning the sink, and applying spray force to those hard-to-reach places of saucepans and pots.
These faucets come in almost any material, so whether you want chrome, bronze, brass, or stainless steel, you'll be able to find an ideal pull-out tap for your needs.
These taps open up your space. They also let the removable head, which generally has a regular stream or a spraying option, a broad range of motion.
Pull-out faucets can access all of your sink's hard-to-reach corners. Depending on the brand and model, sometimes they can even approach the kitchen counter to handle a big pot that wouldn't fit in your sink.
The faucets usually have one handle, enabling users to control the flow and warmth with one hand while employing the pull-out feature with the other.
Some models come with advanced spray technology to guarantee that users can stay in place when not in use. Moreover, it has improved the cleaning ability of the product.
The disadvantage is that, with so much range, it's easy to spill water all over your room if you are not careful enough.
Pros:
Available in different designs

Highly flexible

Useful for cooking, washing up, and cleaning
Cons:
Best For: Those who want a faucet head with a wide range
Pull-Down Faucets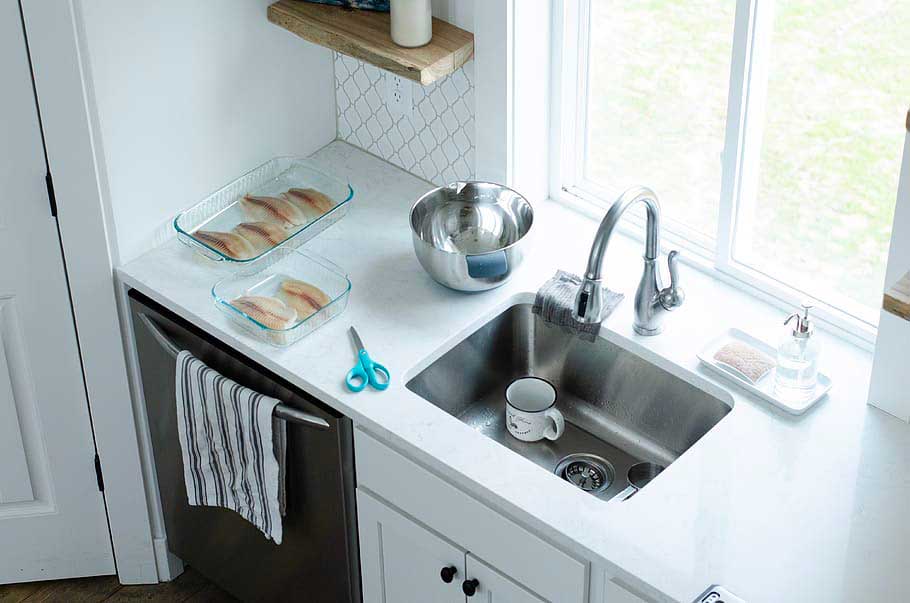 This product is best for hand washing
Many people confuse these taps with the previous one. However, although they perform similar tasks in your kitchen, they have different designs.
The most significant distinction between the two is that the pull-out model has a straight-line design.
On the other hand, a pull-down tap has a bend that can only pull downward. This option gives you the ability to wash in all directions.
The head of a pull-down faucet remains downward and works like a faucet extension instead of a free-ranging tube.
This feature limits the item's versatility, but it also means you won't end up in a mess with an open hose spilling water over your plates and pots.
Because the faucet doesn't usually reach over the edge of your sink, you may clean up with a certain level of cleanness.
Pull-down taps make getting the spray or flow into every nook of the sink much simpler. They simplify dishwashing by digging water into those difficult-to-maneuver items for faster hand-washing.
Please remember that this type needs a deep basin. If placed in a small sink, this model might cause a lot of splashing.
Pros:
Suitable for cleaning difficult spots

Lower splash potential (compared to the pull-out model)
Cons:
Hard to reach outside of the sink

Unable to stretch flexibly
Best For: Those who often wash a lot of dishes by hand
One-Handle Faucets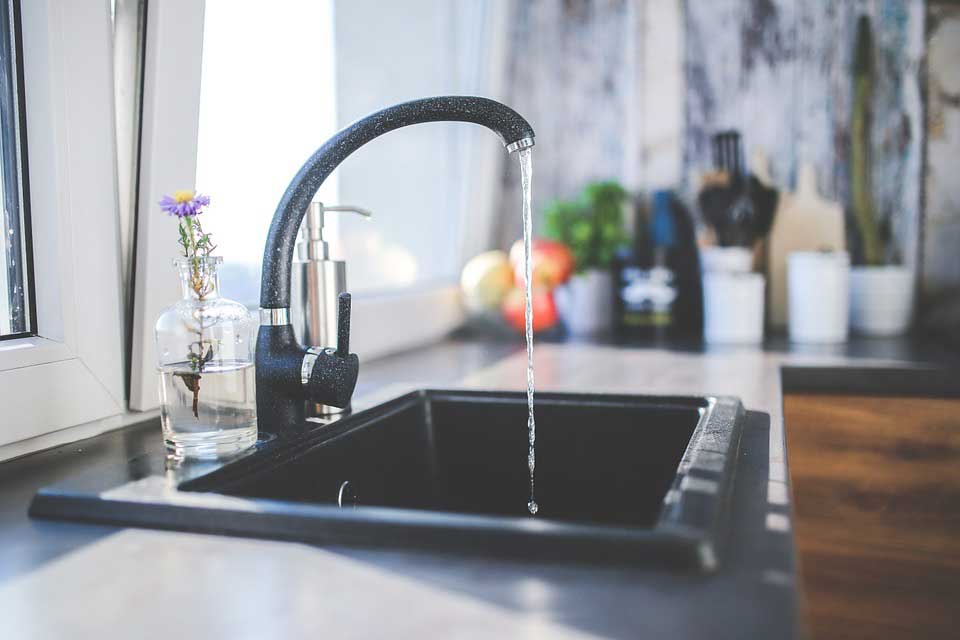 Single-handle tap is the most popular choice
Although there are countless kitchen faucets, there are only two main types accessible in terms of handle figures: one-handle vs. two-handle products.
You switch on the water flow using the handle on a single-handle faucet, then rotate the handle to one of the two sides.
The two sides let cold and hot water in until the warmth and water pressure are just optimum.
Nevertheless, the temperature combination may not be as exact. You may also need to get beyond the training course of identifying which side is hot and which side is cold, which varies by region.
Single-handle taps are excellent for most homeowners since they are simple to use with just one hand.
Because most one-handle models only require one hole for installation, they are the simplest to construct.
Although specific designs separate the grip from the nozzle, many types are still suitable for DIY setups thanks to their simplicity. Learn how to do it right here:
Please remember that adjustable filters, flow-control knobs, and extra-strength cartridges are also available in some designs.
Due to their design, these faucets' capabilities are pretty limited.
Pros:
Easy to use

Simple installation

Widely available
Cons:
Lack of unique features to attract customers
Best For: Those who like a simple design and easy installation
Two-Handle Faucets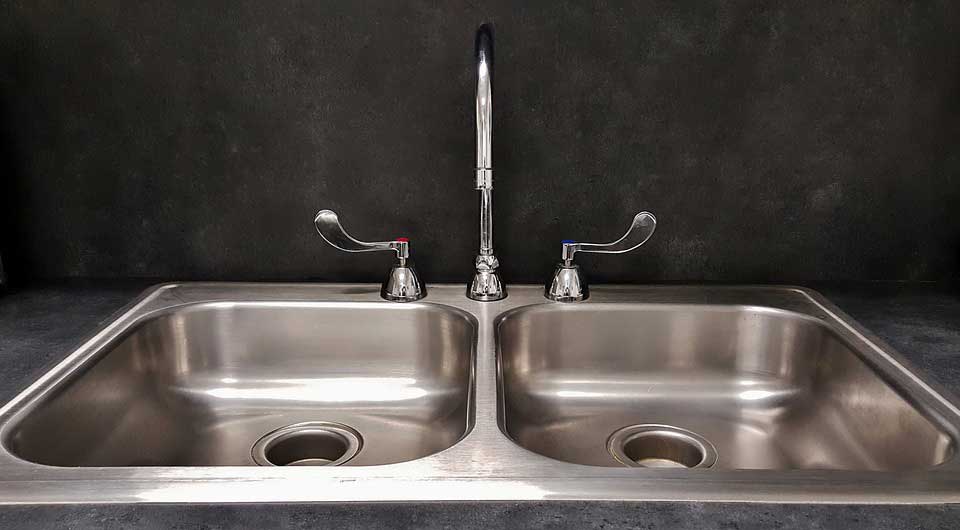 The two handles allow more precise temperature control
Now we're moving to some of the more complicated tap designs. If you have particular requirements, it's worth your time to learn about them.
The cold and hot water controls on a two-handle faucet work directly with the spout rather than being placed as separate parts on a bottom plate.
Moreover, you can benefit from sophisticated temperature control innovation without a complex setup.
Two-handle taps, unlike single-handle ones, usually need three holes: one per handle and one for the nozzle.
There are one-hole versions with two handles on either side of the nozzle, along with bridge-style forms that function with two holes.
They provide you with more options since basins can fit one or three holes. They also improve on temperature and pressure control.
Separate handles deliver hot water more quickly than a single-handle version would.
In addition, two handles let you fine-tune the heat. This feature is ideal for professional bakers who have to keep track of the temperature of ingredients.
The disadvantage of this product is that you have to replace the whole set once it breaks. You can't merely change one part when the product comes in an unseparated set.
Pros:
Separate adjustments for cold and hot water

Simple design

Highly flexible
Cons:
Maybe pricey to replace

More space for installation
Best For: Those who like a classic look and precise temperature control
Touchless Faucets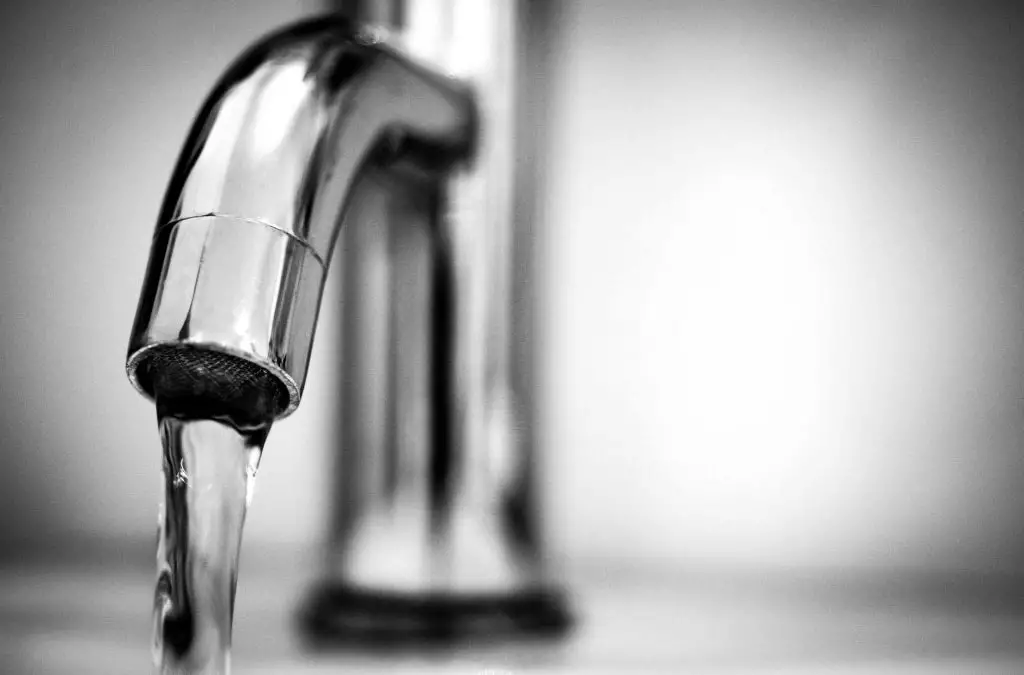 Some taps can work without the handle
You don't need to touch any equipment since touchless taps start flowing water with the wave of your hand or an app on your cell phone.
This tool sets the standard on luxury by responding to your commands to run the water, set a specific heat, and deliver a particular volume of water.
These products come with various features, including digital displays that inform you of water-saving functions and temperature.
Hands-free control is possible with these units, which might be the ideal luxury for professional chefs.
Yet, please remember that the installation is not a DIY project. Let the experts do this task. And, the more sophisticated a tap gets, the more pricey it becomes.
Pros:
Hands-free working

Clean water source
Cons:
Expensive

Professional installation
Best For: Those who prefer automation
Pot Fillers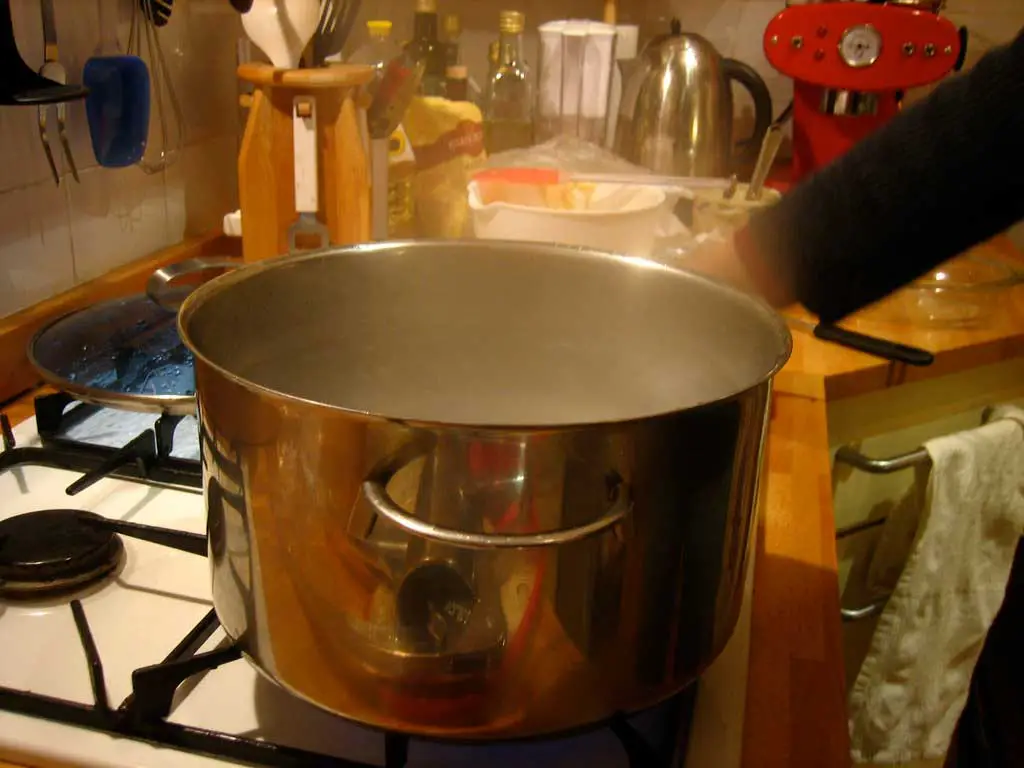 Go for this option if you often cook in a big pot (image source)
Pot fillers are unique taps with thin, long spouts meant to fill large and deep basins. You mostly see them at restaurants or other commercial organizations.
They come in various diameters and thicknesses, but they all can manage a high-pressure, high-volume activity that traditional sinks can't.
You don't need to be a skilled cook to purchase a pot filler. Although it's famous for restaurants, feel free to install it at home.
These innovative taps cover the backsplash below the stovetop to fill pots and pans. As a result, they won't have to stretch their backs carrying big, water-filled pans from the sink to the burner.
Many homeowners consider this unit as a nice-to-have. It helps you prevent common cooking injuries and accidents like burns from holding a hot pot.
In this case, a pot filler is a practical water supply that is accessible precisely where you really need it.
The disadvantage is that those fillers may be so far away from the piping, which is usually under and behind the sink.
This product requires professional installation and sometimes necessitates completely new plumbing behind your wall above the cooktop or range. As a result, repairs might be costly.
Pros:
Best for oversized pots and pans

Excellent for busy kitchens
Cons:
Not intended for home use

Wall-mounted installation
Best For: Those who often use big pots
Hands-Free / Motion-Detect Faucet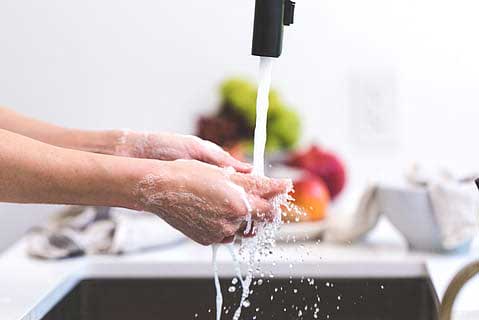 Waving your hands, and the water will flow
These products function on the principle of a small sensor that triggers the water runoff when a pot or a hand is waving in front of it, making cooking quicker.
Most of us have experienced taps like these in public toilets, where all it needs is a hand wave to start the stream of water.
This product is ideal for when you've just touched raw food or other items that might have left germs on your hands.
Controlling the temperature and water flow does, though, require pressing the valve handle on the bottom.
Because they are entirely hands-free, motion-detect faucets are cleaner than regular models. The taps can save water by stopping the flow immediately after waving your hands.
Furthermore, some of these products include many sensors positioned throughout the faucet, making it easier to turn it on.
The most significant disadvantage of this product may be its higher price. It is also harder to install and maintain than traditional versions.
Pros:
Advanced technologies

Clean and germ-free water supply

Hands-free
Cons:
Best For: Those who like hands-free working
Frequently Asked Questions
Here are some frequently asked questions about choosing one from multiple types of kitchen taps. Let's check.
1. What is the most popular type of kitchen faucet?
There are tons of choices when it comes to kitchen taps. However, the most popular one is the single-handle version, thanks to its simple installation and low price.
2. What faucets do plumbers recommend?
Plumbers do not often choose one type of tap over the other. Instead, we recommend buying products from a reputable brand with high-quality components.
Delta, Kohler, Moen, and Hansgrohe are some of the most popular brands. Look for copper, zinc alloy, brass, or alloy steel frames in terms of materials.
3. How long should a kitchen faucet last?
Factors such as usage, design, material, and maintenance, as well as the faucet's durability, will determine how long it lasts.
Many products can last 15 to 20 years, and some even come with a lifetime guarantee.
If the tap is dripping, a simple repair may be necessary, including a new sealant or washer or a nut adjustment.
Final Thought
Simply add a faucet to your kitchen sink, and you will notice a complete change of the whole space. There are many options to pick from. It would be best to consider the available space, design, material, range, and your preference to opt for the suitable one.
Hopefully, your kitchen will become an exciting place with a new faucet installation. If you need any support, please leave a comment.