LinkedIn SSI is the short name of the LinkedIn Social Selling Index. It is a useful tool of LinkedIn to evaluate your Linkedin index score from the following four different elements and Each with a score of 25.
Establishing your professional brand. Finish your profile and become a thought leader by publishing relevant and deep content in your business.

Find the right people. Make the right connections and grow your network by using meaningful search and Sales Navigation tools to identify potential customers in a short period of time.

Engage with insights. Build and develop relationships by engaging with others' content. Discover and share in-depth content that is worth talking about in your relationships.

Build relationships. Strengthen your network by establishing relationships and trust with decision-makers and your potential customers.
How To Find Your LinkedIn SSI Score
The easiest way to see your SSI score is by clicking https://www.linkedin.com/sales/ssi directly, or you can also find it in your LinkedIn dashboard with the following 6 steps.
Step 1#: Log in to your Linkedin account

Step 3#. Click "Sales Solutions"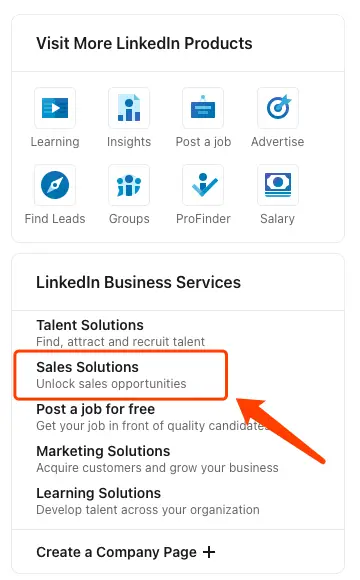 Step 6#. Click to view SSI to measure your sales success. You can find the SSI index here for free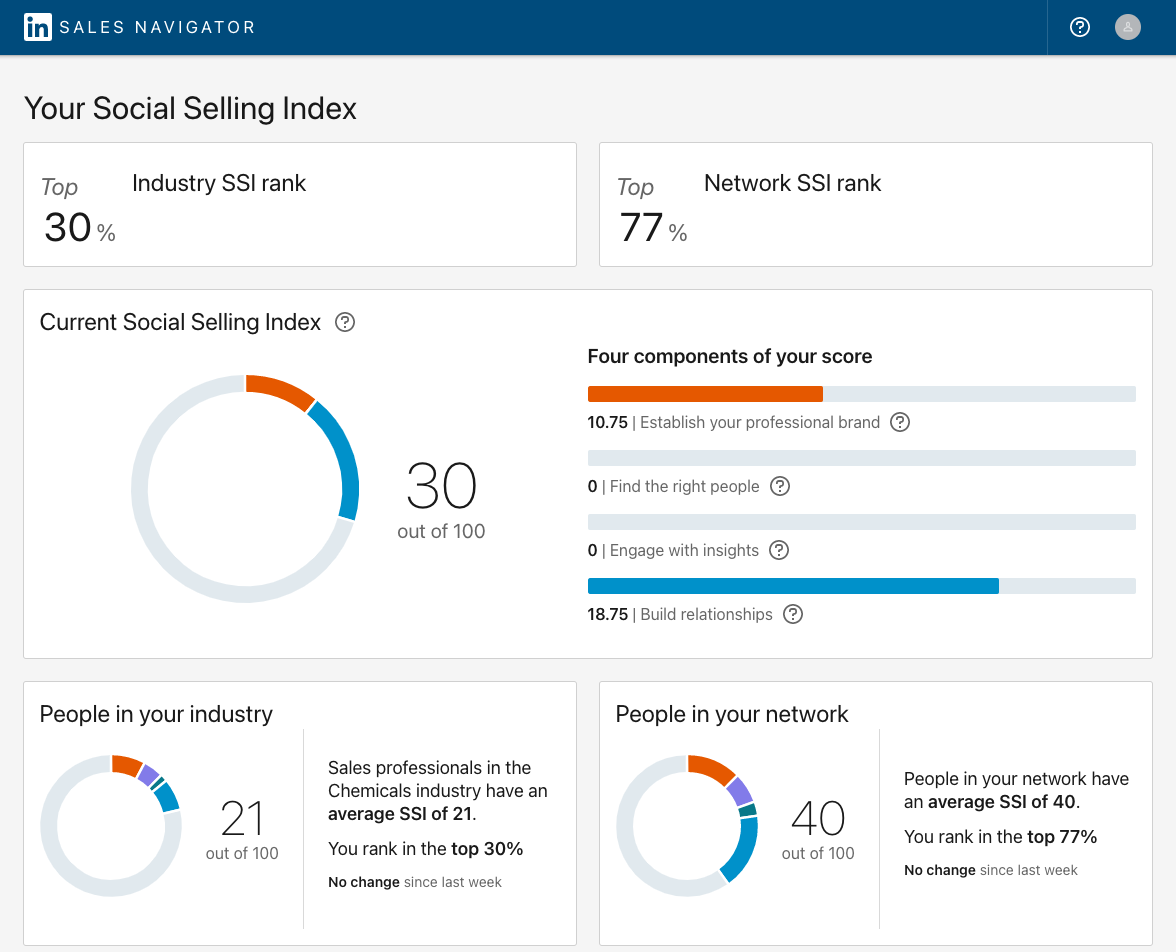 How to Improve the LinkedIn SSI (score)
Generally, there may three ways to increase this score, create and improve your personal brand, find the right people and establish solid interpersonal relationships, and build dedication & trust.
Create and Improve Your Personal Brand
To let other users know what business you are doing by filling a complete profile. Meanwhile, find ways to get support and endorsements from other professionals, which will add more value to your personal information. Or you can ask for recommendation letters from your colleagues.
The following are the tips:
1#: Optimizing your profile to fit your target customers and market.
Make sure that all of your LinkedIn profile sections are filled in. For example, a profile picture, a banner picture, slogan, custom summary, experience, unique recommendation, etc. You may get a high score after these optimizations.
Also, the use of multimedia, such as videos and pictures in personal information, etc.
2#: Publish relevant content and participate in precision social networking content.
Publish original high-quality and long articles on LinkedIn, in order to make your name appear in search engines. The purpose of this is to make yourself into thought leaders in your field.
Find the Right People and Establish Solid Interpersonal Relationships
This can be understood to define your target audience (prospects), establish contact and interact with them.
The following are the tips:
Stay active on LinkedIn.

Publish article comments or share other people's content, interact in groups and share your expertise.

Find your potential customers through 3 ways: job change reminders, potential customers similar to your existing customers, and search filters.
Once you have defined and filtered the prospects, you can use LinkedIn Sales Navigator (a paid tool) to connect with them directly through LinkedIn or collect their information for an email outreach campaign.
How to Quickly Find Decision-Makers?
LinkedIn SSI states"Strengthen your network by connecting and establishing trust with decision-makers." in the element of building relationships. So it would be helpful to develop your brand if you can find and build trust with decision-makers and other thought leaders in your field. 
Use LinkedIn advanced search filtering (Boolean Search). It allows the search combination of keywords and modifiers, such as AND, NOT, OR, to produce more specific LinkedIn search results. For example with the following search queries:
1. AND searches
Type the word AND (capital letters), and the results will include before and after AND. For example, the result of "marketing" AND "CEO" for ecommerce.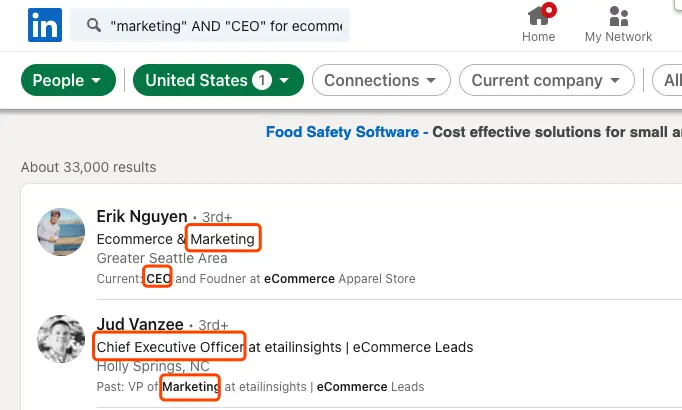 2. NOT searches
Type the word NOT (capital letters) before a word to exclude it from your search results. For example, "marketing" NOT "CEO" for ecommerce.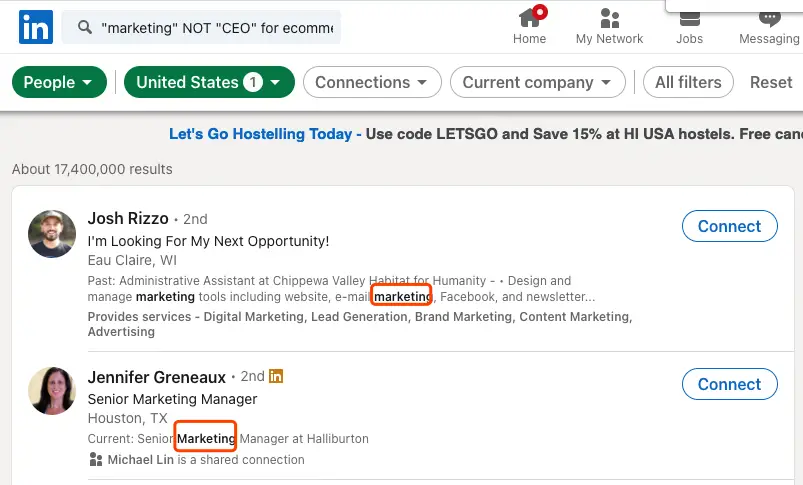 3. OR searches
OR (capital letters) searches broaden your search results than AND and NOT searches. For example, "marketing" OR "CEO" for ecommerce.
Build Dedication and Trust
Create and share valuable content and ensure that the content you share is meaningful to potential business partners.
Once you have established your own professional brand and established contact with the right people, the next step is to discover and share information about your services or products that are worth talking about, so as to establish and develop interpersonal relationships.
You can increase influence and attract more people to participate in your helpful content by providing value. Then, you can establish in-depth contact with them, and in turn, you can also use your unique insights to interact with their content.
How to Use LinkedIn SSI?
The most useful of LinkedIn SSI tools is to increase your use of LinkedIn by monitoring your Linkedin Social Selling index, rather than getting too cared about the score itself although the higher score, the better.
If the score on "Establishing your professional brand" is low
it is recommended to customize your LinkedIn profile based on your potential customers' requirements of a supplier or buyer, such as what your skills needed, how your products or services can help your target customers.
The LinkedIn Social Sales Index will also provide some suggestions, such as sharing meaningful and useful posts on social networks, thereby shaping yourself as a "thought leader" or "key person" in your industry to gain knowledge and insights.
If the ranking for "Find the right people" is low
LinkedIn SSI recommends how to use efficient search and research tools to find potential customers in a shorter time.
If the "Engage with insights" score is low 
LinkedIn SSI encourages us to find and share posts that may arouse interest and controversy among potential customers, thereby helping you to develop relationships with more than 700 million Linkedin contacts.
If the "Build relationships" score is low 
LinkedIn SSI may suggest you find and contact decision-makers, and then develop relationships with them to build trust, thereby improving the quality of your network on LinkedIn.
Final Thought
What are you waiting for? See what your LinkedIn social sales index score is, and improve it to make your profile stand out in your network.
Featured Image Source: https://blog.stellapop.com/creative-insights/how-to-find-your-linkedin-ssi-score